The curse is over, the whole thing is over. For nine long years, Johnny Brownlee did not dare to touch his brother Alistair's Olympic go...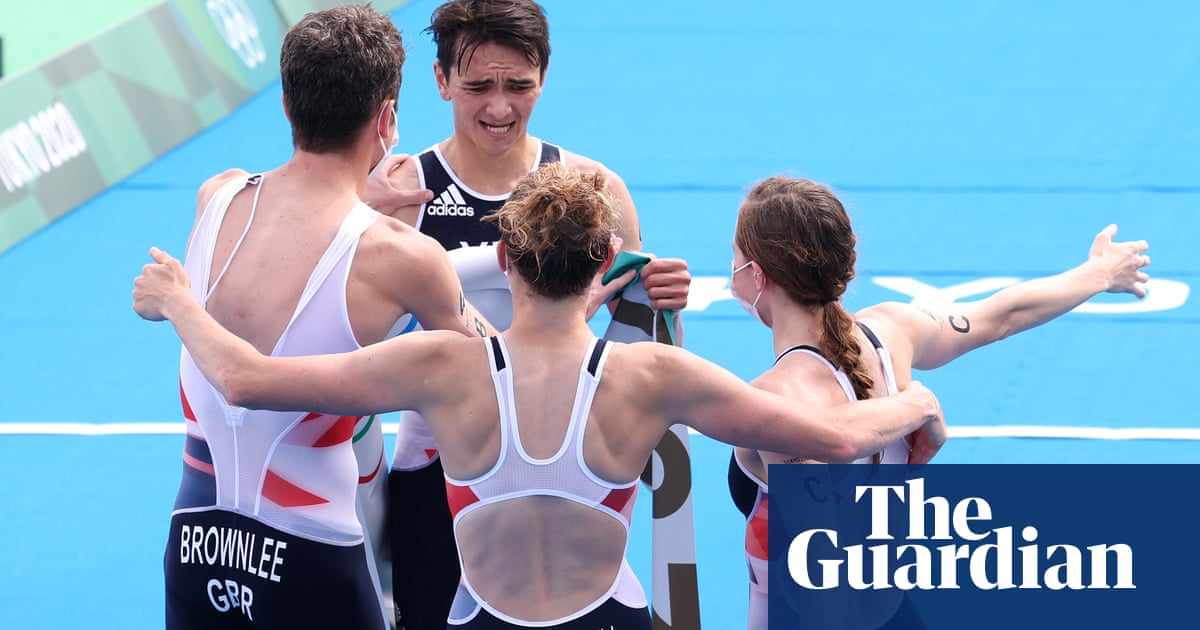 The curse is over, the whole thing is over. For nine long years, Johnny Brownlee did not dare to touch his brother Alistair's Olympic gold medals because he feared it would mar his own dream of being on the top step of the podium.
But on a sweaty and haunting morning at Odaiba Marine Park, Johnny finally emerged from his brother's shadow and made history as the GB team won the first mixed triathlon relay by 14 seconds. of the United States, with France third.
"Olympics? I finished it," Brownlee said afterwards, gold glittering around his neck adding to an individual bronze and silver medal at London 2012 and Rio 2016. "It's" is absolutely amazing.This is my third Olympics and I finally have the gold.
"It's also the very first mixed team relay in triathlon, so we made history there too," he added. "It crowned my Olympic career in an incredible way."
It was an exciting race, with each athlete having to cover 300m swimming, 6.8km cycling and 2km running before joining their next teammate, but the GB team was still in pole position.
Jessica Learmonth led them and immediately put Great Britain in a squad of four with the United States, Germany and the Netherlands having a large lead on the pitch, before Brownlee took over. He pushed hard on the bike to extend the group's lead, before setting off on his own to establish a 10-second gap.
With two individual silver medalists, Georgia Taylor-Brown and Alex Yee, over the final two stages, the feeling of excitement in the British camp was increasing second by second. And the leader too.
By the time Yee started the anchor leg with a 23 second advantage, gold looked like it was in the sack. But French world No.1 Vincent Luis had other ideas, riding like one possessed on the bike to get in the wheel of Yee.
These two had a special story. Back in London 2012, Luis was asked if he had any ideas to help a talented young British triathlete – and he decided to take it a step further by sending him his Olympic kit. This athlete? Yeah.
Yee, however, wasn't going to let sentimentality stand in the way of a gold medal. The 23-year-old, who was faster than Mo Farah as a teenager and good enough to have competed for Great Britain at the European Athletics Championships at the age of 20, quickly made his way to glory – and the GB team's seven gold medals at these Games.
But after hugging the team at the finish, Yee then asked Luis to thank him for his gesture nine years ago. As the Briton explained later: "I remember receiving a package from France and thinking it was really quite strange. But it was from Vince and he sent some of his Olympic kit. I was so young then and I remember thinking 'wow, this is really amazing.
"He's someone who inspired me so much," he added. "Vince is one of the people I admire the most in this sport. It was quite special. It's just a legend.
Yee also insisted he was in full control, despite a momentary wobble when he was briefly led by Luis on the bike. "I panicked a bit," he admitted. "But I had had a lot of information on the course so I knew Luis was coming in fast and he had worked pretty hard. And I knew I would probably be able to scare him off if I stayed with him on the bike.
"I also support myself to run well, so I guess I used my strength and was a little cunning in a way, but I'm really happy. "
Not everyone in the British squad was so relaxed. As Learmonth admitted towards the end, she was "slightly nervous" – adding that: "I think the relay, you have a lot more pressure than in the individual."
But on that day, above all else, Brownlee the Younger finally got the gold medal his talent has long deserved after more than a decade as one of the world's elite triathletes.
It has been a race. Meanwhile, the 31-year-old has been world champion, Commonwealth champion and – incredibly – finished on the podium in each of the 42 races he competed in between July 2010 and May 2014.
He also won two Olympic medals – albeit with the added sting of being styled by his older brother each time. Now, however, he can end his Olympic triathlon career with the highest of peaks.
"I don't really know what to say," Brownlee admitted. "If someone had said at the start of my international career that I would have three Olympic medals and three different colors, I would have taken that. It's super special.
"And the way we all ran was amazing. Jess prepared us perfectly, we didn't make any mistakes, we did everything the best we could and Alex finished. To finally get a gold medal, I'm pretty emotional.
He was not the only one. At the finish line, his brother Alistair was waiting to welcome him to an exclusive gold medal club. "I've known for a long time that Johnny wants gold," he told The Observer. "But he never wanted to touch my medals because he thought it was bad luck.
"It's great for him and I'm really happy." The sustained cheers from those around the GB team showed that he was far from alone.