Good morning, and welcome to our rolling coverage of the world economy, the financial markets, the eurozone and business. The UK housin...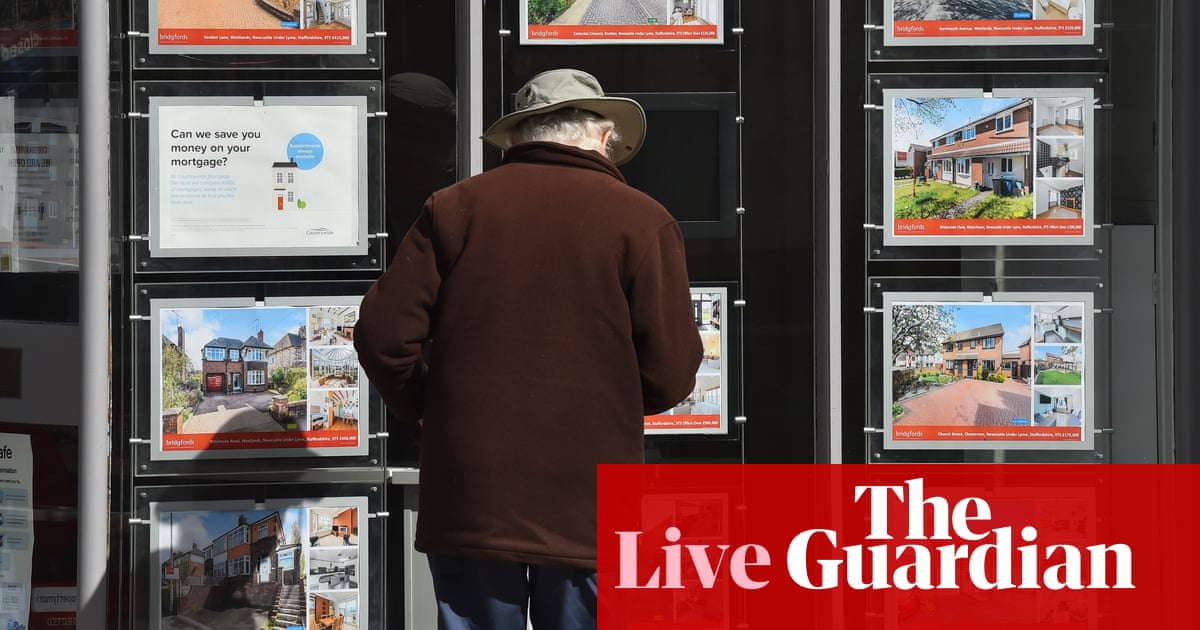 Good morning, and welcome to our rolling coverage of the world economy, the financial markets, the eurozone and business.
The UK housing boom continues to run, with house price inflation accelerating again as the pandemic spurs people to move to larger properties in more rural areas.
Figures released by Nationwide this morning show that annual house price growth jumped to 10.9% in May, up from 7.1%/year in April, pushing the new average price to a new peak.
It says:
Annual house price growth rises to 10.9%, the highest level in nearly seven years
Prices up 1.8% month-on-month, following a 2.3% rise in April
New record average price of £242,832, up £23,930 over the past twelve months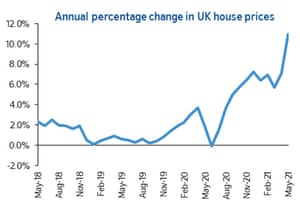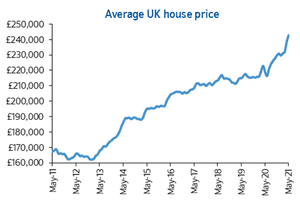 Robert Gardner, Nationwide's chief economist, says the housing market has seen a "complete turnaround over the past twelve months" since the first lockdown temporarily froze the market, with transactions reaching a record high of 183,000 in March: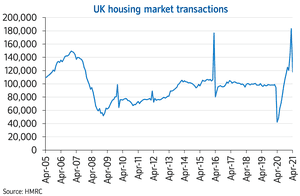 Gardner adds that Nationwide's research shows that pressure for more space, or a garden, is the primary factor driving the market this spring.



"Amongst homeowners surveyed at the end of April that were either moving home or considering a move, more than two thirds (68%) said this would have been the case even if the stamp duty holiday had not been extended.

It is shifting housing preferences which is continuing to drive activity, with people reassessing their needs in the wake of the pandemic.
Nationwide says the 'race for space' continues to drive demand. Of those moving or considering a move, around a third (33%) were looking to move to a different area, while nearly 30% were doing so to access a garden or outdoor space more easily, according to an online survey of consumers.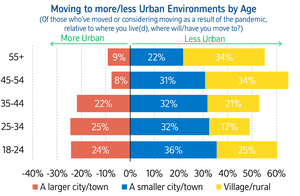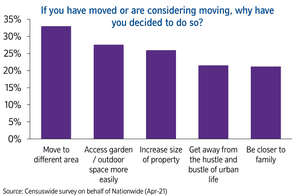 Gardner adds:



"Over a third (36%) of those surveyed said they were more likely to consider enhancing their home as a result of Covid19, with nearly half (46%) of these looking to add or maximise space.
Faster broadband was another factor, with the move to home working and home schooling during lockdown showing the value of a good web connection.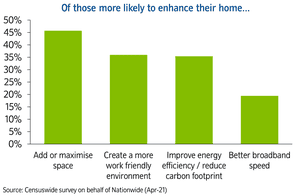 Nationwide's results will interest the Bank of England, which is carefully monitoring Britain's booming housing market as it weighs up the possibility that a rapid recovery from the Covid-19 pandemic will lead to a sustained period of inflation.
In an interview with the Guardian today, deputy governor Sir Dave Ramsden said the Bank expected price pressures to be temporary but he and his colleagues on Threadneedle Street's monetary policy committee were aware of the risks.
Ramsden, the deputy governor responsible for markets and banking, said:



"There is a risk that demand gets ahead of supply and that will lead to a more generalised pick-up in inflationary pressure. That's something we are absolutely going to guard against. We are looking carefully at the housing market and a raft of real-term indicators."
Also coming up today
Surveys of factory purchasing managers in the eurozone, UK and US are expected to show strong growth last month, and squeezed supply chains pushing up prices.
Oil ministers from the Opec+ group will hold a video call today to assess the latest developments in the global markets.
They're expected to stick to the existing pace of gradually easing oil supply curbs, as demand picks up — which has already pushed UK petrol prices up for six months in a row. Crude prices have risen overnight, with Brent crude rising over $70 per barrel.
The agenda
Today: OPEC and non-OPEC ministers Ministerial Meeting
9am BST: Eurozone manufacturing PMI for May
9.30am BST: UK manufacturing PMI for May
10am BST: Flash reading of eurozone inflation in May
1.30pm BST: Canada's Q1 GDP report
3pm BST: US manufacturing PMI for May