It's not hard to understand why Brian Stelter's interview with Jen Psaki on Sunday became a bit of an online sensation, at least on th...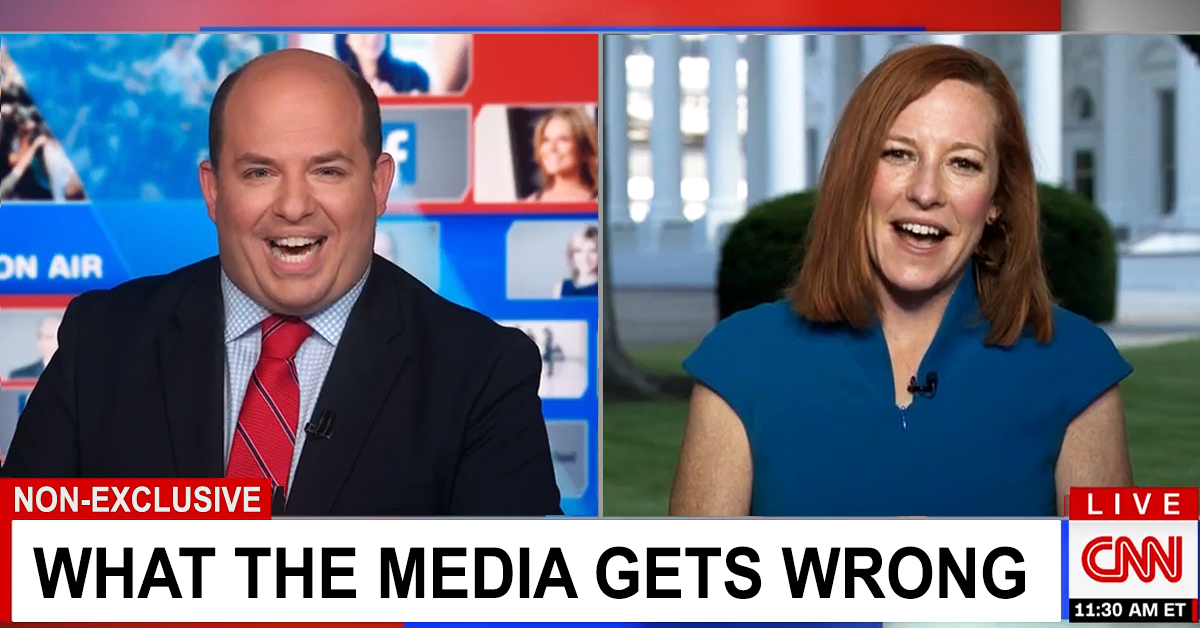 It's not hard to understand why Brian Stelter's interview with Jen Psaki on Sunday became a bit of an online sensation, at least on the right. Stelter's first question set an almost goofy tone for what turned into 15 of the softest minutes you'll see outside of Bruce Almighty-style giant cookie spot.
The reaction became a story of its own, with headlines at the New York Post and Fox News touting Stelter being "roasted" and "widely panned," and conservative blogs using words like "fawning," "bootlicking," "gooey" or even "obsequious."
Glenn Greenwald, who is not a conservative but was part of the overall reaction, said "this is how state TV functions" in one of the most quoted tweets.
Stelter, in the immediate aftermath of the segment and amid the deluge shared his own "reax" reaction, saying "liberals mad" that he asked about Biden doing press conferences, and "Conservatives enraged" about the first question.
"I feel so old fashioned thinking to myself, 'judge the interview in context,"" he wrote.
So let's.
Reliable Sources opened on Sunday morning, as these shows do, with an outline of what's to come. "This hour, a special interview with the White House Press Secretary Jen Psaki. She has answers about how she tries to make sure the briefing room does not become a forum for propaganda," said Stelter.
When it they came to that part of the show, he introduced the segment with a comment about "media bunkers" and "alternative realities" offering "unique challenges" for the job of press secretary and then very rapidly went into his first, fateful question.
"What does the press get wrong when covering Biden's agenda?" Stelter asked. "When you watch the news, when you read the news, what do you think we get wrong?"
Picture if you will the seconds of delighted pause before every Republican tuned in raced to Twitter.
There is a very small extent to which it is possible to believe there might in some way be a kind of logic behind beginning with asking a press secretary about correcting incorrect information. It is an essential premise of Stelter's weekly coverage of the media that there are, in fact, bad questions. One might consider that this question was intended to prime the pump for later asking about dealing with evil right wing questions.
So there is some version of events where Stelter thinks to himself, "I'm going to ask her about allowing questions from bad actors and how she deals with the misinformation in their bad questions, so first I'll just ask in general what she thinks media gets wrong as a lead-in."
I'm sure he didn't think "I'll do it in the goofiest possible way with the most shit-eating grin on the planet and practically saying the words wink wink nudge nudge out loud," but I guess execution doesn't always reflect intent.
But it is a helluva walk to put those items together and allow that it was an understandable or good question. It was, on its face, atrocious. It set the entire segment on the least journalistic footing possible, came off as the most pandering and facilitating it could, and was practically a gift to anyone who criticizes the media's bias. Appallingly bad in every way.
That question stood out, and stood alone, on social media. Because of how bad it was, how bad it looked, and how badly it was delivered. But it wasn't alone, of course, and as Stelter tweeted, it's necessary to take the whole interview in context.
What followed it, in context, was nothing short of shocking to someone who has watched TV news for as long and as closely as a Mediaite writer and former RedState editor has been doing it.
Here is an abbreviated summary of the questions that meet the softball/fawning/gooey criteria of the conservative critics.
• "What does the press get wrong when covering Biden's agenda?"

• "There are times in your briefings where you seem so comfortable, then there's times where you seem frustrated by the lines of questioning. So, I want to know what the job is like versus what you expected it to be like?"

• "So, why do you call on Fox News and Newsmax?"

• "Five months in, do you feel you've made any progress with that, defeating the lies?"

• "[The President] doesn't get many interviews either. Is that part of an attempt to lower the temperature, be less visible, be boring?"

• "You were a CNN commentator in between your time working for the Obama administration and now working for Biden. What did you learn here? What did you take from CNN, and how does it apply to your job now?"
(That's an amazing comment, by the way, from a CNN host who has criticized the "revolving door" between administrations and media.)

•"For other P.R. professionals who watch what you do, for journalists who watch what you do, what's your advice for them about trying to stay close to the truth in this world of lies?"
You can watch them, in context, at the bottom of this post, where the full 15-minutes or so is embedded for your judgment. They come off worse on video than typed out, but by all means.
He also asked, in a clip he played separately, about the Covid restrictions in the briefing room and some "personal questions" for Psaki. That's also in the video below.
So, Brian Stelter began his interview by asking press secretary Jen Psaki to advise the press on what they get wrong. His penultimate question was to ask her to advise them on how to get things right. In between, he asked about her being frustrated by the press, and why she accepts questions from unfriendly outlets. And he even pondered whether Psaki felt that her awesome reporter pwns and #PsakiBombs are okay for the country.
And then his final "critical" question began with the premise that "this is often adversarial," leaving the viewer wondering whether it was the word "often" or "adversarial" that he wasn't quite getting the hang of.
This was a disastrous interview. Poorly planned, poorly executed. It was designed with the singular purpose of highlighting Fox News and Newsmax as being bad, Jen Psaki as being good and on the side of truth. It was like one of those fake interviews you see in a late night infomercial where the Hollywood has-been grills the pseudo-scientist about why, exactly, people are so foolishly reluctant to accept the benefits of putting bananas in your hair.
In other words, it was the 15-minute long version of this: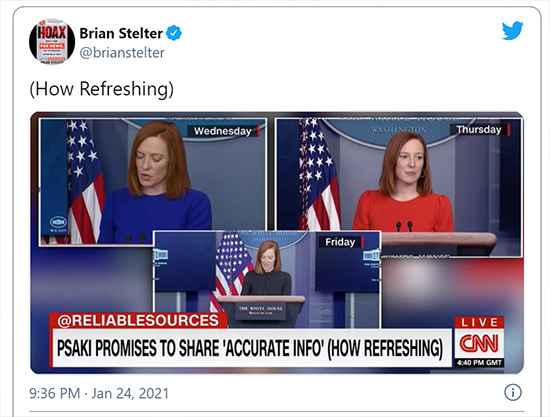 As you've no doubt surmised I would eventually conclude, the bottom line is that Stelter answered his own question from the start of the interview. He spent 15 minutes demonstrating exactly how the press is doing a bad job of covering the Biden White House. It couldn't have been planned better.
Still, though, remember that Stelter said to take the whole thing in context. I think we should extend that to the whole show. Here's a clip from later in the show. It's the teaser and then final segment, and the subject is "televised propaganda."
"Fox has been radicalized, and the Trump base is rewarding it," said Stelter in the extended pitch for the paperback release of his book "Hoax" that's out today.
Brian Stelter spends a lot of time talking about what is and isn't real news. This interview? It wasn't. Whatever it started out to be, it ended up as the kind of slobbery mess that alternate reality Brian Stelter would criticize. Yes, you sometimes can't win. But this time it was all lose. And it ended with a pitch for a book about the other guys.
What an amazing set of juxtapositions. And all brought to you by the Pwns Network.
I'm reminded again of the movie Bruce Almighty. At the end, after Jim Carrey's character Bruce Nolan has learned the film's lesson of humility, he goes back to visit the giant cookie bakers who at the top of the story were instrumental in his rejection of his job delivering soft news. He introduces the family and their gigantic blood drive cookie by saying "sure it's a little creepy, and a shameless plug, but we love 'em."
A little creepy. A shameless plug. Food for thought? Or how the cookie crumbles? But we love 'em!
—
HERE IS THE FULL INTERVIEW.
CNN HAS THE FULL TRANSCRIPT HERE.
This is an opinion piece. The views expressed in this article are those of just the author.