Fox News host Laura Ingraham claimed on her show Friday night that "Biden's insurrectionists" — not the Trump supporters that attacked...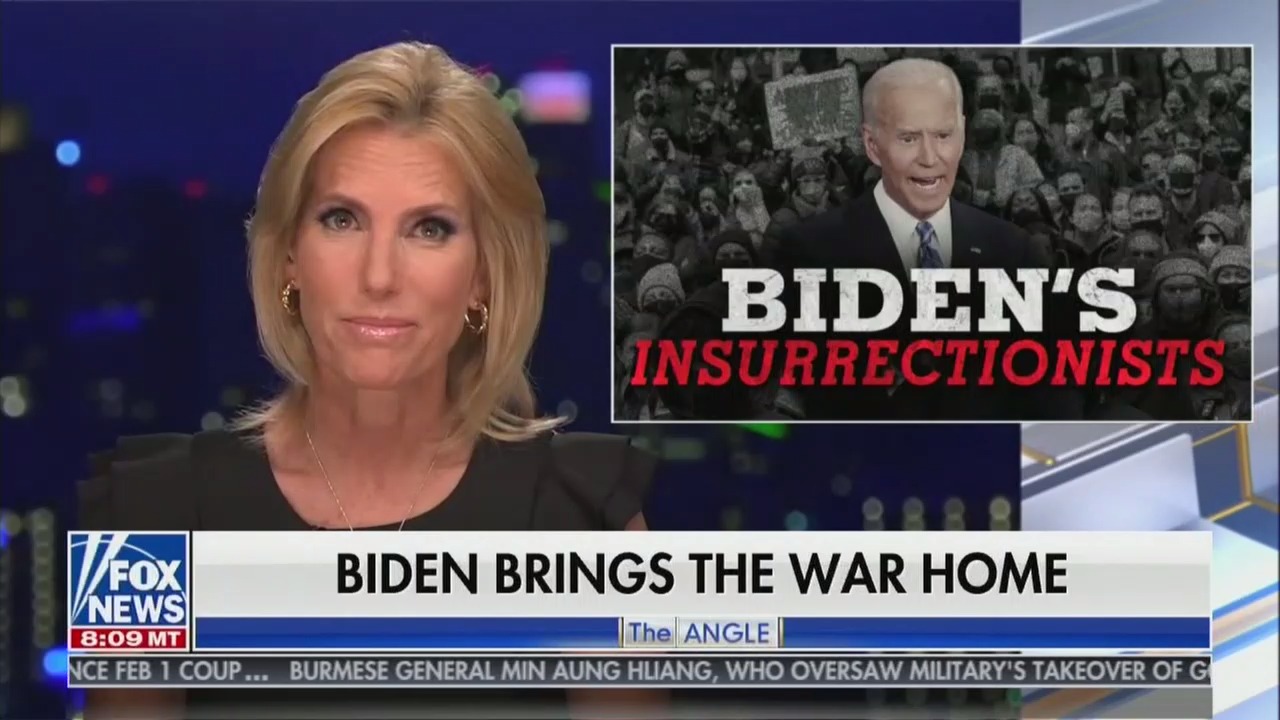 Fox News host Laura Ingraham claimed on her show Friday night that "Biden's insurrectionists" — not the Trump supporters that attacked the Capitol on Jan. 6 — are the real threat to America.
"America's most dangerous insurrectionists," Ingraham said, "are not the goofy QAnon people in fur and face paint, ok? The real threat to our future is Biden and the well-heeled powerful forces who want us to lose sight of what made America great in the first place. It's not our diversity. It's our freedom."
That monologue came days after Ingraham said that the "big lie" is not, as many have argued, the false claim that the 2020 election was stolen, but instead President Joe Biden's claim that "systemic racism" exists.
Big lie. Insurrectionists. Both terms have been used regularly to characterize the conduct of former President Donald Trump and his supporters, are now being reclaimed by his media boosters.
The playbook isn't a new one. Trump famously battered his opponents with the words they used to describe him. When stood accused of a lifetime of corruption in 2016, Trump labeled Hillary Clinton "crooked." When fact-checkers tallied up the mountain of brazen lies he told on the campaign trail, he declared the media "fake news."
The playbook, as dishonest as it is, is also remarkably effective. The repetition of terms like "fake news" and "rigged" not only convinces Trump supporters of their veracity (most Republicans don't believe the 2020 election was free and fair) but also reframes the debate on terms beneficial to Trump.
In the case of Trump's media defenders, like Ingraham, weaponizing the words used to characterize Trump serves a greater purpose:  it robs them of any meaning or significance. Now, any attempt to point out that Trump's rhetoric caused the Capitol attack is rebutted with a simple, if absurd, argument: Biden inspires insurrectionists as well.
Last week wasn't the first time Ingraham accused Biden of inciting an insurrection. In February, she argued on her show that "the real insurrection," was defined by a litany of threats being cultivated by Biden: illegal immigration, the "D.C. swamp" that "seeks to overthrow everything we love about America by defaming it, silencing it, and even prosecuting it," and even school administrators. "Insurrectionists have stormed our schools with BLM indoctrinators," she said, and "shuttered our classrooms by empowering union heavies" and "overwhelmed small businesses with idiotic, stupid lockdowns."
Put another way, Ingraham's insurrectionists are Democrats. Never mind that referring to all of your ideological opponents as "insurrectionists" renders the word completely meaningless (words have definitions!), the consistency of the argument is of little importance. Ingraham has successfully co-opted the term, wielding it in a game of ideological warfare that draws an equivalence and therefore excuses any and all misconduct by her preferred political figure.
The same strategy was deployed with vigor during the Russia investigation. Federalist editor Mollie Hemingway, a pervasive Trump sycophant, repeatedly accused his opponents of "collusion," the very charge that Trump was accused of. Fox News host Sean Hannity was fond of the collusion charge as well, and claimed those scrutinizing the Trump team's Russia ties were engaging in "tin-foil hat conspiracy theories."
That rhetoric served the same purpose as Ingraham's quest: rob words of their meaning, convince the faithful that self-reflection is for losers and that Trump is an infallible hero subject to yet another witch hunt.
Pro-Trump media co-opting "big lie" and "insurrectionists" is further evidence the strategy works to change narratives. While there may have been some self-reflection from Republicans in the immediate aftermath of the bloody Capitol attack, that quickly evaporated, thanks in no small part to wagon-circling from a media that thrives on blind support for Trump.
Months later, most Republicans don't blame Trump at all for the attack, and many are in denial about its very existence. An April poll found that 55% of Republicans believe the fantasy that the riot was started by "violent left-wing protesters trying to make Trump look bad."
You could call those imaginary agitators Ingraham's insurrectionists.
This is an opinion piece. The views expressed in this article are those of just the author.