Your starter for 10: More than 300,000 people attended a virtual tournament of which sport in March this year? Some clues: it's a staple...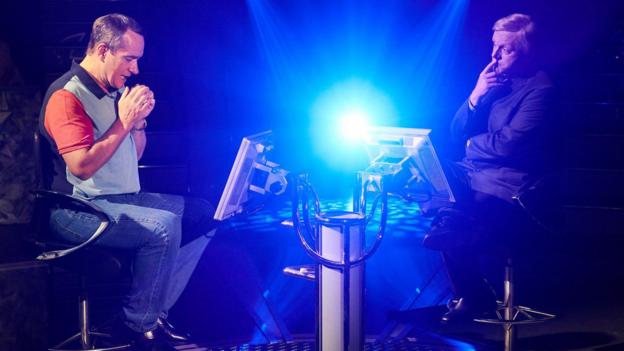 Your starter for 10: More than 300,000 people attended a virtual tournament of which sport in March this year? Some clues: it's a staple of get-togethers between family and friends on Zoom, and was the subject of the biggest hit of British television during lockdown. The answer? The humble quiz.
More like this:
–        How home workouts became essential TV
–        The worst TV drama of the year so far
–        The greatest talkshow host of all time
Right now, we can't get enough of fingers-on-buzzer rounds, even if that's tricky to replicate on Houseparty. More than 10 million UK viewers tuned into Quiz, the dramatisation of the attempted swindle on Who Wants to Be a Millionaire? by an army major, his wife and a fellow contestant in 2001. Quiz, which hits US screens on AMC on 31 May, also reveals the obsessive nature of the pastime's fanatics, some of who went to extraordinary lengths to appear on, and win, Millionaire.
Quizzes have always appealed to obsessives, especially those with a knack for storing and retrieving specific information about capital cities, recurring characters in The Simpsons, and which western astrological star sign is represented by the twins Castor and Pollux (Answer: Gemini, the twins sign – the clue is in the question, quizzers).
Some of the appeal of quizzes was people hearing themselves on the radio – Alan Connor
The first publically-organised quizzes, US spelling bees of the 1930s, favoured alphabet aficionados. Then radio gave the quiz a boost with shows like the BBC Transatlantic Spelling Bee, which featured Harvard, Radcliffe and Oxford university students as contestants. During World War Two quizzes were re-tooled to fit the national mood in the UK, with snappily titled games like World War Two Air Raid Wardens Training Bee.
Quizzes gained popularity because they gave normal people access to the airwaves. It's a key factor in their enduring appeal, says Alan Connor, author of The Joy of Quiz: "Normal people didn't get to read the news or give lectures on air. So some of the appeal of quizzes was hearing themselves on the radio."
Once television got in on the act, quizzes got more entertaining and general knowledge questions gave the public an opportunity to exercise their grey matter. "We go through school being rewarded for retaining information," Connor tells BBC Culture. "In the adult world nobody cares about how much we know or how quickly we can recover it. And so a quiz is a great way of doing something with this information that we all carry around in our heads."
In the Post-war era, the US television networks added a fresh incentive to quizzing: the chance to win big money. The 1950s saw the rise of high-stakes game shows in the US like The $64,000 Question. Money heightened the risk in quizzing, and it made for gripping drama. But the big money shows took a knock in the late 1950s, when it emerged that many were rigged to favour certain contestants, a con depicted in the 1994 Robert Redford film Quiz Show.
In the UK, University Challenge originated as an antidote to scandal hit quizzing – no prize money was involved, and the questions were mostly high-brow. It was based on an American student quiz, College Bowl, but quizzing for prestige has remained a curiously British tradition since. Question: The winner of which similarly high-minded show takes home a Caithness glass bowl? (Answer: Mastermind).
In the hotseat
But it was a British quiz show that upped the money stakes in quizzing. Who Wants to Be a Millionaire? was an enormous success at home (watched by more than a third of the British population in the early 2010s) that became a global franchise, and the setting for the Oscar-winning film, Slumdog Millionaire, adapted from Vikas Swarup's novel Q&A.
Quiz, adapted by James Graham from his play of the same name, poses questions about the Millionaire fraud but it also looks under the bonnet of a quiz show to show how a great one works. And Millionaire's creators took great care to make it irresistible. They hired a masterfully unreadable host in Chris Tarrant, perfectly mimicked by Michael Sheen in Quiz. They racked up the tension with a darkened studio, an ominous score (inspired by Gustav Holst's The Planets) and placed mics inside the contestant's chair so the audience could hear every nervous twitch.
With multiple-choice questions and no clock to beat, Millionaire brought us closer to the hotseat than ever before. "It stopped being a mere spectator sport, like say Mastermind, and became interactive," says Graham. "You had time to huddle with your family and wrestle with the question and the four possible answers. It allowed you to go on an enjoyable journey towards the answer, replicating exactly the experience of a pub quiz."
The pub quiz was a touchstone for Millionaire's makers, who wanted to create a show as serious about the pastime as participants took the British midweek staple. Though small-scale local quizzes were originally staged in the 1940s by the Women's Institute as a way to keep husbands away from the pub, by the 1980s drinking establishments had started using them to draw customers in on otherwise quiet weeknights. Estimates suggest that, just before the coronavirus crisis, more than half the UK's 40,000 pubs ran quizzes, with a dense web of quiz leagues operating at local and national level. 
The obsession with quizzing reached criminal levels with Millionaire. Major Charles Ingram was found to have been helped to his £1m by another contestant, whose cough signalled correct answers. But that investigation also uncovered a subculture of quizzers intent on exploiting weaknesses in Millionaire's game.
Being right is still a very popular British pursuit – James Graham
The Syndicate, a team of corduroy-wearing, middle-class quizzers, found ways to get on the show numerous times, and arranged for contestants to call their best quizzing minds during the Phone-a-Friend round, for a cut of the winnings.
They are said by ITV to have cost the show around 10% of the show's £50m prize money paid out over Millionaire's run. For the writer of Quiz, James Graham, these Millionaire obsessives were driven by more than just the hard cash. "I have to believe it wasn't just the winning," he says. "I like to think that the pursuit of knowledge was also a factor. And The Syndicate proved that being right is still a very popular British pursuit."
Serious quizzers or not, we all can relate to the feeling of being right. Dave Clark, Mastermind champion 2008, who has also won the Brain of Mensa twice, knows the feeling better than most. So what is it about quizzes that hold the answers for him? "I have a naturally inquisitive nature, I've always amassed useless knowledge without even trying," he says. "The first time I played, I discovered I was good at it, which appealed to my competitive nature."  
The pub-league world is fiercely contested. Clark, an English teacher in South Wales, has had to bow out of tournaments because of "bad feeling" when his team kept winning. It didn't help that he'd move to a new quiz and start a winning streak there too. "All it would take would be to win three times in a row and the sniping would start," he says.
Still, the motivation is less about beating others than getting stuff right. "There is nothing better than that moment when you dredge something up from your memory that you didn't know that you knew, that little snippet that you never in a million years thought could ever be asked in a quiz," says Clark, whose final round subject on Mastermind was the history of London Bridge. "You actually learn from quizzes. My favourite quizzes are usually those where it isn't just about what you know, but about applying what you know to help work out what you don't know."
Right now, there's a lot that we don't know about, like when lockdown ends and we can see our families and friends in person. In the meantime, we have the quiz. "It's a way of being with people," says Connor, usually a TV-quiz question editor who has been organising virtual quizzes for family and friends during this period. "There's not much good stuff to talk about at the moment, and there's no sense when we do gather virtually that anyone is going to ask what everyone has been up to because we already know the answer."
So quizzing, with its twists, turns and tie-breaker questions, adds an element of surprise to the midweek group chat. It also, in a time of uncertainty, offers the comfort of knowing that someone always has the right answer.
Quiz is available to view in the UK now on ITV Hub, and in the US on AMC from 31 May.
Love film and TV? Join BBC Culture Film and TV Club on Facebook, a community for cinephiles all over the world.
If you would like to comment on this story or anything else you have seen on BBC Culture, head over to our Facebook page or message us on Twitter.
And if you liked this story, sign up for the weekly bbc.com features newsletter, called The Essential List. A handpicked selection of stories from BBC Future, Culture, Worklife and Travel, delivered to your inbox every Friday.