Stock markets rally as some countries prepare to ease Covid-19 lockdowns - business live | Business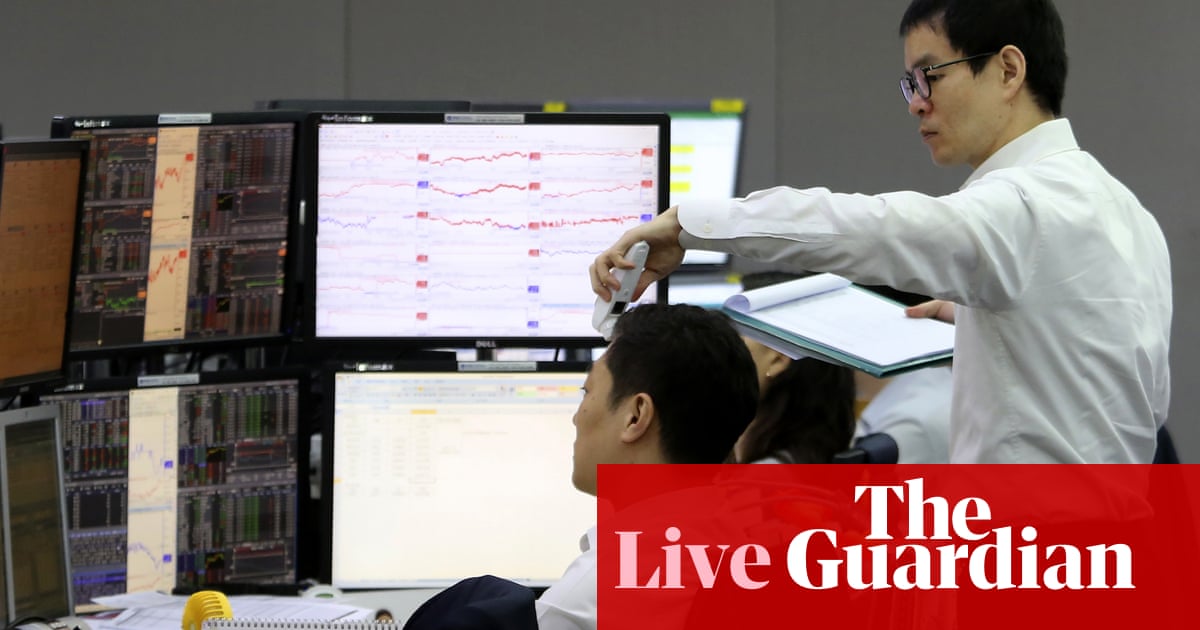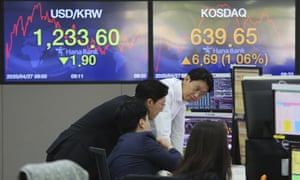 Good morning, and welcome to our rolling coverage of the world economy, the financial markets, the eurozone and business.
Stock markets are starting the new week on the front foot, as some countries prepare to lift some of the lockdown measures imposed in recent weeks.
Equities have rallied across Asia-Pacific bourses already, with Japan's Nikkei gaining 2.8% and China's CSI 300 up 1%.
South Korea's KOSPI 200 has gained 1.8%, and Australia's S&P/ASX 200 is 1.5% higher.
We're expecting a solid start to trading in Europe too. The FTSE 100 is being called up 75 points, or 1.5%, at 5826 points.
Traders are (relatively) upbeat as France, Italy, Spain, Australia and New Zealand prepare to loosen some of their coronavirus restrictions.
Italy is being watched particularly closely, as the first European country to impose lockdown measures seven weeks ago prepares to lift them again. Last night, prime minister Giuseppe Conte said the measures would be relaxed from 4 May.
Italian parks, factories and building sites will reopen, and people will be allowed to visit their relatives in small numbers. Schools, though, won't restart until September.
Spain is also trying to move towards "a new normality". Yesterday, children under 14 were allowed out to exercise for the first time since mid-March.
France is also looking to ease some lockdown restrictions soon. Yesterday, French PM Edouard Philippe said he would present the government's exit strategy on Tuesday. It will focus on six themes: "health (including masks, testing and isolation), school, work, shops, transport and gatherings".
In Downing Street, Boris Johnson has returned to work, and must decide whether to relax some of the UK's restrictions. The PM must balance pressure to help the economy against concerns that a early easing will create a second coronavirus spike.
Many MPs, and some Conservative Party donors, have been pushing for a partial end to the lockdown, as my colleague Heather Stewart explains:



The chancellor, Rishi Sunak, will underline the costs of shuttering the economy to tackle the crisis on Monday, as he makes a statement to the House of Commons on the Treasury's response to the crisis.

He will point to forecasts by the independent Office for Budget Responsibility that suggested a three-month lockdown could lead to a catastrophic 35% decline in GDP in the second quarter of the year.

Sunak is among those cabinet ministers who have been keen to see some businesses reopen, and officials have been working on proposals for deciding which should come first – based on how easy it would be for them to work safely, and how critical they are to the economy.
Over the weekend, the UK's total hospital deaths from the virus broke through 20,000, a grim milestone in a pandemic that has spread tragedy and misery. The true death toll is feared to be much higher, once care home deaths are included.
But Britain's daily death total did drop to a four-week low yesterday, at 413 – mirroring similar falls in other countries.
Jeffrey Halley of trading firm OANDA says investors are hopeful that the worst of the virus could be behind us.



Peak virus seemed to be the overriding theme of the week, with the rate of new cases and deaths falling in Europe and the United States, the COVID-19 epicentres. Plans appear to be accelerating also for partial reopening's around the world. New Zealand returns to work tomorrow, Australia plans a partial effort this week, New York has announced protocols for a mid-May reopening with some US states already tentatively opening.

European hotspots such as Italy, Spain, Germany and the UK are also planning partial reopenings or will be doing so this week.
There's no major economic data due today. It's going to be a busy week, though, with US and eurozone growth figures coming up. There's also lots of earnings results to watch, with Alphabet/Google, Microsoft, Facebook, Apple and Amazon all reporting this week.