Coronavirus US live: Trump repeats attacks on press as deaths continue to mount | World news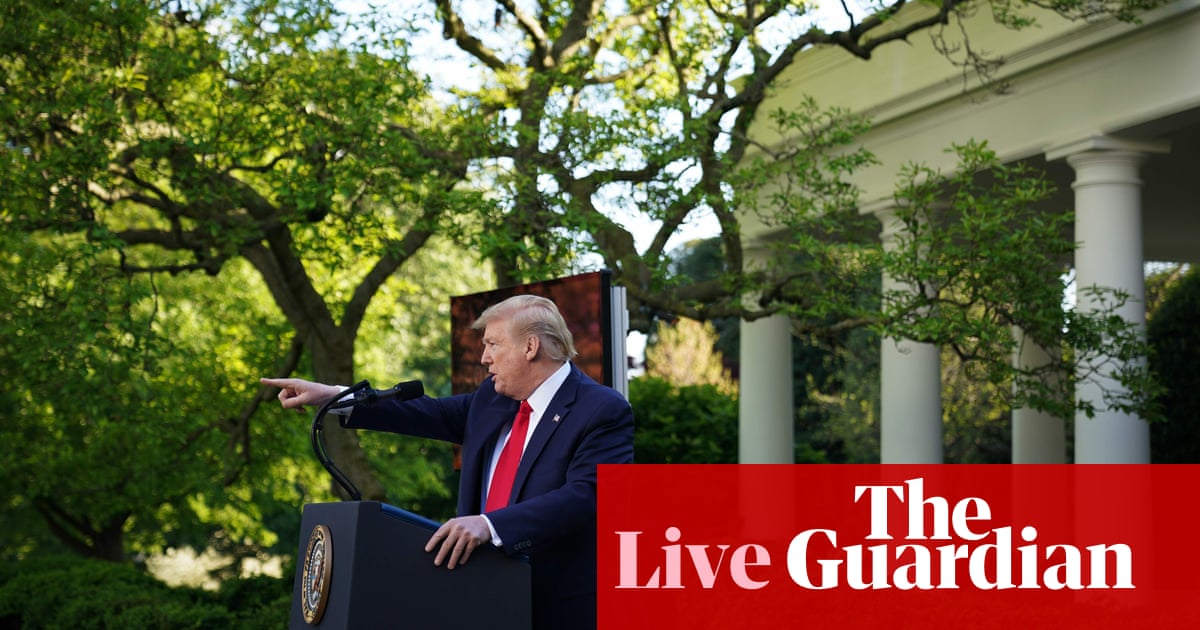 …and welcome to another day of coverage of the coronavirus outbreak – and the politics of it under Donald Trump – in the US.
First, as ever, the figures according to Johns Hopkins University:
US cases: 988,303
US deaths: 56,248
New York cases: 291,996
New York deaths: 22,668
Other states are badly hit too: there have been more than 6,000 deaths in New Jersey, more than 3,000 in Michigan and Massachusetts, more than 2,000 in Connecticut and more than 1,000 in many others.
Whither Trump, then. On Monday the president first cancelled his daily press briefing, in the aftermath of last week's disinfectant disaster, then announced it was on again. In the Rose Garden the president seemed a little subdued but also stuck to his usual talking points. Washington bureau chief David Smith's sketch is here – and true to its distinctly British journalistic form:



His autocratic tendencies are well-known. His sudden absence from public view prompted fierce speculation and rumour. One headline suggested that he was "brain-dead".

The North Korean leader Kim Jong-un's whereabouts remain unknown. But after a lost weekend, Donald Trump bounced back into the spotlight on Monday determined to prove that he is not only healthy but working very, very hard.
This question, by the by – "If an American president loses more Americans over the course of six weeks than died over the entirety of the Vietnam war, does he deserve to be reelected?" – produced more blowback for the questioner than the questioned, on grounds of whether it showed the proper respect. Such are the mechanics of the White House press corps. For the record, around 58,000 Americans died in Vietnam.
Otherwise, at his White House presser Trump also:
Announced a plan to increase coronavirus testing, which public health experts say is at nowhere near the level needed if the US economy is to reopen.
Blamed China (the subject of this fascinating Politico story about jittery Senate Republicans being told not to defend the president).
Refused to take responsibility for more people ingesting disinfectant in the days since his remarks on the subject.
After the briefing, Trump made his usual attacks on the press on Twitter, at one point seeming to conflate them with the coronavirus, "the Invisible Enemy!"
But as of this writing, on Tuesday morning, there is no White House briefing on the schedule for Tuesday, though Trump is set to deliver remarks on small business in the Rose Garden at 3pm.
Elsewhere, New York governor Andrew Cuomo announced a death toll in continued decline and started to look towards reopening parts of the state, while states including Texas and Ohio outlined their own plans to reopen.
More to come. Before it does, some further reading: