Markets rally as US reaches deal on $2trn Covid-19 stimulus package - business live | Business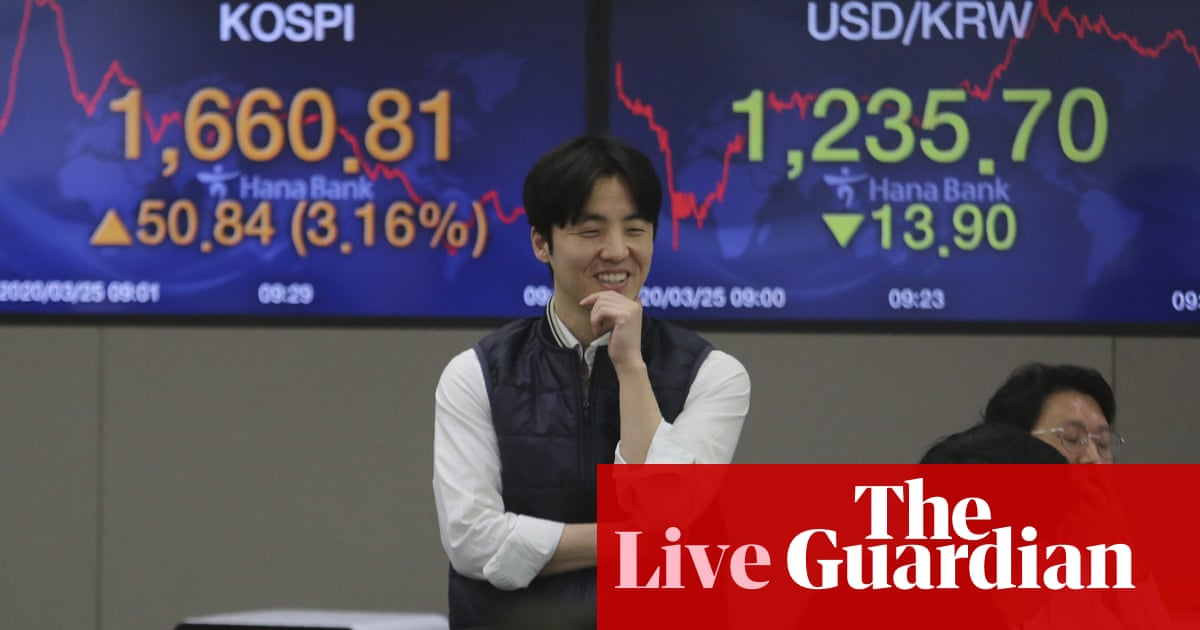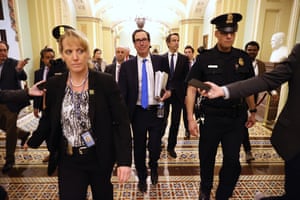 Good morning, and welcome to our rolling coverage of the world economy, the financial markets, the eurozone and business.
"Ladies and gentlemen, we are done. We have a deal."
Those words, from White House director of legislative affairs Eric Ueland, are cheering investors – and may help to turn the tide in the markets.
Ueland revealed a couple of hours ago that US Senate leaders have reached a deal with the Trump administration on a nearly $2tn stimulus package.
It's designed to protect Americans from the worst of the looming recession.
The package will include direct payments for US families, and support for businesses.
The text of the deal isn't quite finalised, but all sides appear to be behind it, as my colleague Lauren Gambino reports from Washington:



After days of around-the-clock negotiations amongst senators and administration officials, a bipartisan compromise was struck over what is expected to be the largest US economic stimulus measure ever passed.

"We have a deal," said Eric Ueland, the White House legislative affairs director, just before 1am, adding that the text of the bill still needed to be completed. "We have either, clear, explicit legislative text reflecting all parties or we know exactly where we're going to land on legislative text as we continue to finish."

Senate majority leader Mitch McConnell confirmed a deal had been reached.

The bill will then go to the House, and then to Donald Trump, who is expected to ratify it.
Optimism that a deal was close sparked an immense rally on Wall Street last night. The Dow soared by over 11%, or 2112 points — its best day since 1933 (during the recovery from the Great Crash of 1929).
European stocks also has a late bolt to the finish line yesterday, with the FTSE 100 jumping 9% – the best day in a decade.
Markets have rallied in Asia today too, amid relief that governments and central banks are throwing their weight behind stimulus measures, as economic activity slumps.
Japan's Nikei has surged 8% today, South Korea's KOSPI has jumped nearly 6% and Australia's S&P ASX 200 has gained 5%.
But this surely isn't the end of the coronavirus pandemic? Older City heads will remember that bear markets often see such wild swings.
Investors really want to see signs that the medical crisis is being brought under control – and we're a long way from that position in the UK, the rest of Europe, or America (where president Trump is keen to end lockdowns despite medical warnings).
So the markets will probably remain volatile for a while.
As Jasper Lawler of London Capital Group puts it:



Two ways it could easily all go pear-shaped is 1. The virus spread just gets out of hand and/or 2. The stimulus isn't enough to give the economy a shot in the arm after being laid comatose in lockdown.

Trump would like to see US 'reopen' by Easter Sunday on April 12, which seems optimistic.
Today we learn how UK inflation changed last month, how much retail sales have fallen this month, and how badly German business confidence has been damaged by the crisis
The agenda
7am GMT: UK inflation for February
9am GMT: IFO survey of German business confidence in March
11am GMT: CBI's index of UK retail sales in March