Trump responds to Barr: I have 'legal right' to intervene in criminal cases – live | US news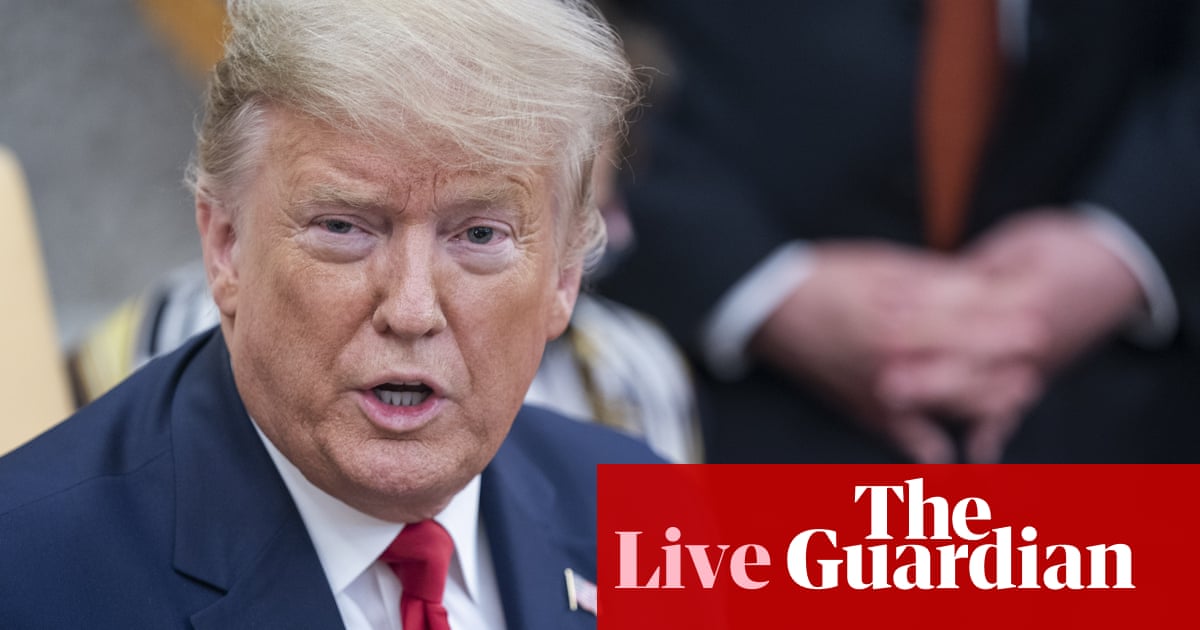 Good morning. US attorney general William Barr made an unexpected intervention into the ballooning controversy over Donald Trump's interference in the trial of his friend Roger Stone.
Barr – seen as a staunch Trump loyalist – publicly rebuked the president, saying that Trump's tweets about the Stone case "make it impossible for me to do my job" and adding that he would not be "bullied or influenced" over justice department decisions.
"I think it's time to stop the tweeting about Department of Justice criminal cases," Barr told ABC.
The attorney general claimed Trump "has never asked me to do anything in a criminal case", but he acknowledged the president's comments undercut his authority.
The initial reaction from the White House was relatively calm. Press secretary Stephanie Grisham said the president "wasn't bothered" by Barr's comments, adding: "[Barr] has the right, just like any American citizen, to publicly offer his opinions. President Trump uses social media very effectively to fight for the American people against injustices in our country."
Whether that line holds when Trump gets up this morning and begins his effective use of social media for the day remains to be seen. The president has a low tolerance for criticism, whether from friends or enemies – as former chief of staff John Kelly saw yesterday.
Barr's motivations are also in question. He has been called to testify to Congress about alleged political interference at the justice department, and may be preparing the groundwork for that. He may also be attempting to save his reputation – which has been shredded since he joined the Trump administration last year, particularly after his handling of the Mueller report.
Barr characterized the report in ways that appeared to absolve Trump of wrongdoing on numerous occasions, even though the redacted version of the Mueller report released in April 2019 showed nearly a dozen instances in which the president or his campaign sought to obstruct justice.



The attorney general had been contemplating how to respond since he became aware of Mr. Trump's attacks on the department, according to a person familiar with his thinking. Speaking up could have put Mr. Barr at risk of losing the backing of the president, but remaining silent would have permitted Mr. Trump to continue attacking law enforcement and all but invited open revolt among the some 115,000 employees of the Justice Department.

Ultimately, Mr. Barr concluded that he had to speak out to preserve his ability to do his job effectively, the person said … The attorney general had let the president know some of what he planned to say and is remaining in his job, a person familiar with the events said.
The attorney general's rebuke comes amid an intensifying fallout over the Stone case, after the justice department overruled its own prosecutors who had recommended that Stone, a longtime Trump ally and confidant, be sentenced to seven to nine years in prison. The four prosecutors on the case subsequently resigned in protest. Stone is due to be sentenced on 20 February.
We'll cover the continuing fallout from this and all US political news here throughout the day.
Trump is heading to Mar-a-Lago after his meetings today, while the Democratic candidates competing to take him on in November continue to campaign across the country. Bernie Sanders will be in North Carolina and Texas; Pete Buttigieg in Nevada and California; and Joe Biden, Amy Klobuchar and Tom Steyer in Nevada.
Oh, and by the way: