New Hampshire primary: Bernie Sanders beats Pete Buttigieg in tight race – live | US news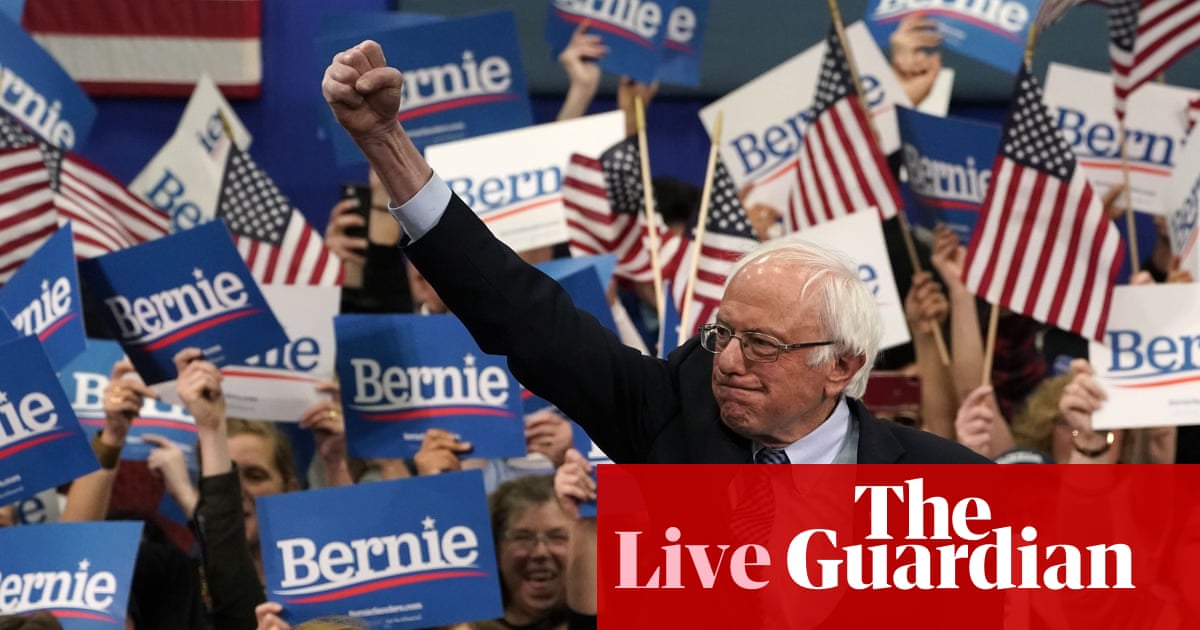 Bernie Sanders got the clean victory he was denied in Iowa last night in New Hampshire, with a win over rival Pete Buttigieg that was closer than expected but avoided the chaos of last week's Iowa caucuses.
With 87% of precincts reporting in the second race of the 2020 Democratic primary, the socialist Vermont senator had won 25.7% of the vote to 24.4% for the young former mayor of South Bend, Indiana.
Amy Klobuchar, meanwhile, a moderate senator from Minnesota, will be pleased with her strong third place finish and 19.8% of the vote.
It was another lacklustre night, though, for Elizabeth Warren, Sanders' rival on the Democrats' liberal wing, and Joe Biden, the former vice-president who had entered primary season the favourite and his seen his star dramatically wane.
Sanders' share of the vote was way down on the 60% he received in this state in 2016, although that was pretty much a two-horse race with Hillary Clinton, in contrast to 2020's panoply of candidates.
With around 26% in both Iowa and New Hampshire, it is clear he has a strong and loyal base of support, particularly among the young and those on the left, and he may now be the frontrunner. But he has not yet proved he can win over centrist votes within the party, some of whom are bitterly opposed to him for both policy and personality reasons.
Rather than consolidating its strength, however, the centrist wing of the Democratic party seems only to be fracturing further.
Biden is in serious trouble, and rushed on yesterday to South Carolina, which votes on 29 February and is a must-win for him with its large African-American population, seen as a key part of his voting coalition. But in between is Nevada, which is likely to be a very tight race between the centrist former VP and a buoyant Sanders.
Buttigieg placed strongly in New Hampshire, but is unlikely to make much headway among the diverse electorates of Nevada and South Carolina, and it's notable that his national polling has not (yet?) seen a dramatic rise.
Klobuchar's third-place finish last night gives her a chance to make the case that she should be the standard-bearer for the moderate wing. "Hello America, my name is Amy Klobuchar and I will beat Donald Trump," she told a crowd last night, seizing her chance to address not just the Democratic party but the nation.
And Mike Bloomberg remains a great unknown, planning to join the race on March 3 for Super Tuesday after spending hundreds of millions of dollars advertising in large states.
This continued division in the centre only benefits Sanders, who seems to have seen off Warren, his key competitor on the left. Warren's candidacy hit the rocks when her policies – particularly her expensive comprehensive healthcare plan – came under a severe spotlight. The same may now happen to Sanders as he takes on the role of frontrunner.
The Republicans also held a primary race, as Trump was quick to point out. Trump got 85.5% of the vote, while former Massachusetts governor Bill Weld got 9.2% – a much stronger showing than his result in Iowa last week, 1.3%.
You can see all the New Hampshire results here:
We'll have live coverage of all the fallout here today.
Roger Stone case
We'll also cover the continuing controversy over the sentencing of Trump's longtime friend and unofficial adviser Roger Stone.
Yesterday four lawyers who prosecuted Stone resigned in protest after their sentencing recommendation was overruled and slashed by Donald Trump's justice department. The department's move came after Trump tweeted of Stone's original sentence recommendation: "This is a horrible and very unfair situation … Cannot allow this miscarriage of justice!"
Stone was found guilty last November of seven crimes including obstruction of justice, lying to Congress and witness tampering. He was the sixth former Trump aide to be convicted in cases triggered by special counsel Robert Mueller's Russia investigation.
The justice department is supposed to operate independently of the White House in criminal investigations and prosecutions. The final decision on Stone's fate will rest with US district judge Amy Berman Jackson, who repeatedly took a harsh tone with Stone during the trial in Washington. Stone's sentencing is expected on Thursday.
Further reading: