BBC - Culture - Oscars 2020: Parasite's groundbreaking win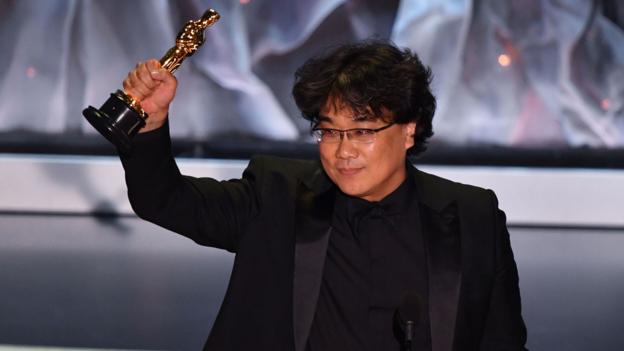 No, they didn't mix up the envelopes. At Sunday's Academy Awards, Bong Joon-ho's South Korean black comedy Parasite became the first non-English-language film in the Oscars' 92-year history to win the overall best picture prize. Bong had already won the prize for best screenplay and best director, and Parasite was the inaugural winner of the best international film prize, the category's name having been changed from 'best film in a foreign language'. But it was this groundbreaking grand finale that put the ceremony into cinema's record books. Not only will 2020 be known as one of those infrequent but not unheard-of years in which the best picture Oscar went to the actual best picture, but it will also be known as the year when the Academy admitted that subtitled films are not intrinsically inferior to ones that aren't. Film critics and fans were united in celebration on social media, and the mood in the Dolby Theatre appeared to be just as jubilant. To put it mildly, last year's best picture win for Green Book didn't get the same reaction.
More like this:
–       From Parasite to Joker: Is film at war with the rich?
–       The brilliant women the Oscars ignored
–       Do the Oscars really reward the best costumes?
If it hadn't been for Bong's achievement, the evening would have looked very different. In short, it would have looked awful. Things started promisingly, with Janelle Monae's finger-clicking opening number, an all-singing all-dancing celebration of Hollywood. This was such a blast that when confetti showered on the heads of the elated spectators, it gave you the feeling you often get after the pre-credits set piece in a Bond movie, ie, nothing that follows is going to match this, so can we just skip ahead to the last 20 minutes?
the ceremony felt, at times, less like a unique event than a sequel: part three or four in a long-running franchise that is stuffed with familiar characters and running-out-of-plot twists
The good times kept rolling for a little while longer, though, with some relaxed joshing from Steve Martin and Chris Rock, and a laid-back speech from Brad Pitt (best supporting actor), which kept up the high standard of all of his many speeches over the past few weeks: in under two minutes, he had a pop at the US Senate, paid a personal tribute to his director (Quentin Tarantino) and co-star (Leonardo DiCaprio), made an intriguing point about the need for awards for stunt artists, made an emotional connection between Once Upon a Time … in Hollywood and his own Hollywood fairy tale, and dedicated the Oscar to his children. You can't say fairer than that.
But Pitt's win was just one of several that echoed those at the Golden Globes, the Baftas, The Screen Actors Guild awards and other award ceremonies. A week ago, for instance, the Baftas handed acting trophies to Pitt, Renée Zellweger for Judy, Joaquin Phoenix for Joker, and Laura Dern for Marriage Story, plus the cinematography prize to Roger Deakins for 1917, the screenplay prize to Bong and the music prize to Hildur Guðnadóttir for Joker. The Oscars made exactly the same choices, and while the luminously happy Guðnadóttir's win was a rare victory for a woman in that category, the ceremony felt, at times, less like a unique event than a sequel: part three or four in a long-running franchise that is stuffed with familiar characters and running-out-of-plot twists.
The evening dragged on and on, especially during the central hour – or was it seven hours – which was assigned to technical awards and songs. It was a clever innovation to have the actresses who dub the voice of Elsa in other countries join in with Idina Menzel's rendition of Into The Unknown from Frozen II, but the trouble was that three of the Oscar-nominated songs were bombastic power ballads, and Randy Newman and Elton John's grand-piano rockers, from Toy Story 4 and Rocketman respectively, sounded like pastiches of their earlier work that had been knocked off that afternoon for a sketch show. Of course, you could go to the kitchen and make some tea during these renditions, but how many cups of tea can any human being drink?
The numerous remarks about the lack of female directors and black actors nominated lent proceedings an embarrassed and apologetic air
As for the technical prizes, yes, I know we should be pleased that they are presented on prime-time television and not during the advert breaks, as was mooted last year, but segment after segment of people you don't recognise nervously reciting the names of their colleagues and spouses is not riveting television. What was missing, strangely enough, was glamour. The organisers were reluctant to bring out current A-listers and Hollywood royalty, and when they did… well, Tom Hanks announced that there was a film museum opening in Los Angeles in December, and that was hardly a revelation to have you dropping your popcorn. Then there was a montage telling us that – shock – there have been lots of good songs in the movies. And there was Eminem performing Lose Yourself 18 years after it won the Oscar for best original song. This was a triply bad idea – first, because there was enough music already; second, because it had nothing to do with Hollywood's current output; and third, because Eminem's song still sounded fresher and more invigorating than any of this year's nominees.
It was all part of the show's underlying theme, which was that the Academy Awards, the nominated films, and Hollywood itself were having a substandard year. The numerous remarks about the lack of female directors and black actors nominated (Cynthia Erivo aside) lent proceedings an embarrassed, defeated and apologetic air. Monae's backing dancers were dressed as characters from films which had been overlooked – Midsommar, Dolemite Is My Name, Queen & Slim – as if to accept that voters had made some duff decisions. And the comedy offered by the double acts – Will Ferrell and Julia Louis-Dreyfus, James Corden and Rebel Wilson, and the never-better Maya Rudolph and Kristen Wiig – related to the comics not caring about the awards they were introducing. After two hours, when Ray Romano and Sandra Oh were presenting the hair and make-up prize, Romano used a swear word, and Oh joked: "Everyone woke up there!" She knew, as we all did, that everyone had been snoozing.
By the last advert break, Parasite was no longer the underdog. It would have been a grave disappointment if it hadn't won best picture
For much of the time, the most interesting question was how liberal the ceremony could get away with being. It was like one long stunt designed to upset conservative viewers, with highlights including Taika Waititi's acknowledgement of indigenous tribes, Sigourney Weaver's contention that "all women are superheroes", and Jane Fonda's declaration that "nothing is more important than representation". Closest of all to self-parody, though, was Phoenix's eco-speech, an articulate, deeply felt oration that will nonetheless be remembered for the words: "We feel entitled to artificially inseminate a cow". It made Phoenix's character's chat-show appearance in Joker seem reserved in comparison.
Amid the tedium and the silliness, however, excitement built as Bong won best screenplay and best international film, and then best director. By the last advert break, Parasite was no longer the underdog. It would have been a grave disappointment if it hadn't won best picture. But win it did. Suddenly, the stage was crowded with Koreans who knew that they had shattered a glass ceiling, the auditorium was crowded with Americans who knew that justice had been done, and everyone watching on television could look back at the previous three-and-a-half hours through a rose-tinted rear window. In truth, it wasn't much of an Oscar ceremony, but if you jumped from Monae's song at the start to Bong's triumph at the end, you could easily convince yourself that it was.
Love film? Join BBC Culture Film Club on Facebook, a community for film fanatics all over the world.
If you would like to comment on this story or anything else you have seen on BBC Culture, head over to our Facebook page or message us on Twitter.
And if you liked this story, sign up for the weekly bbc.com features newsletter, called The Essential List. A handpicked selection of stories from BBC Future, Culture, Worklife and Travel, delivered to your inbox every Friday.