BBC - Culture - The best cultural spaces to visit in Los Angeles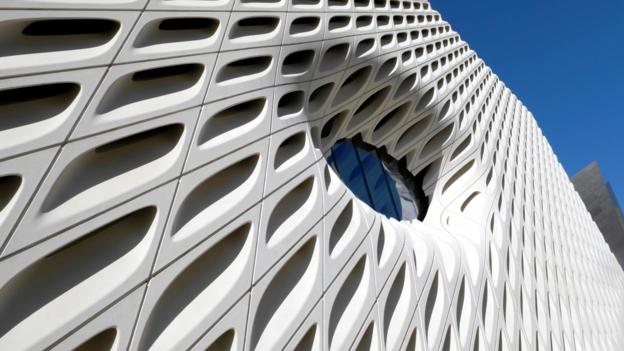 The cliche goes that Los Angeles isn't a great place for culture – or architecture. The ultimate horizontal city, its shape and texture are dominated by – so the argument runs – its endless roads and freeways, the restless expansionary movement that drove the city's 20th-Century growth.
More like this:
–        The culture that defines New York
–        The shocking writer who defined Gen X
–        A lost masterpiece rediscovered
It's certainly true that, even nowadays, major buildings in LA are in thrall to the almighty automobile. But, as Angelinos never fail to remind you, there are jewels, if you know where to look. Particularly, this is true of LA's cultural spaces, glittering highlights in the suburban sprawl.
The city's Art Deco movie theatres are some of the finest in the United States. And museums and galleries come in many sizes and shapes, from the restrained elegance of Richard Meier's 1990s Getty Center, perched in the western hills, to the crazed collage of the Los Angeles County Museum of Art (LACMA), which features space-age 1960s buildings by William Pereira, a 1980s extension, a pavilion by Renzo Piano. It has a curvaceous new addition by Swiss master Peter Zumthor planned.
LA is catching up with its East Coast rivals in new architecture, too. In addition to the city's distinctive, car-mad mid-Century architectural style – gas stations, drive-throughs, diners and the rest – a recent burst of regeneration in downtown LA has created some genuine contemporary masterpieces.
Orpheum Theatre
Stroll through the theatre district of downtown Los Angeles, and there seems to be a classic movie house on every corner. Built in the 1920s and 1930s, many were constructed by theatre owners desperate to outdo each other in incorporating the latest architectural craze – Egyptian, Chinese, Mayan, Spanish Revival and more. Most of these palaces to the cinematic arts have seen better days, to put it mildly, and only a handful still show films.
The Orpheum, built in 1929, is a rare exception.  It was sumptuously restored during the early 1990s, and is looking finer than ever. Designed by the renowned movie theatre architect G Albert Lansburgh, who is responsible for some 50 cinemas up and down California, the Orpheum is both fantastical and fantastically plush – the apex of a uniquely American architecture to suit this most American of art forms.
With its filigreed terracotta Beaux Arts facade and stylish 1940s marquee, the building announces its ambition even before you get inside – and then smothers you in a flurry of grand marble staircases, plaster vaulting, decorated panelling, silk wallpaper and more. The double-level auditorium, with stained-glass rosettes and paired chandeliers, more closely resembles a grand European opera house than a mere cinema. There's even a mighty Wurlitzer organ able to produce sound effects such as gunshots and car horns for silent films – one of the few functioning instruments of its kind in the United States. Lansburgh's lavish design was so impressive that it was copied across the country.
Case Study Houses
As World War Two was drawing to a close, editors at the influential Arts & Architecture magazine came up with an intriguing wheeze: why not employ some of the world's leading architects to design and construct prototype houses, to suit the postwar housing boom that was sure to come? In the words of their editorial, each building "must be capable of duplication and in no sense be an individual 'performance'", and offer "practical assistance to the average American in search of a home". Requirements were that approved designs must be simple, flexible and cost-effective – modernist ideals uniting with the California Dream to create the home (or homes) of the future.
The original plan was for eight houses, but over the years – the project lasted from 1945 to '66 – numerous architects got involved. Among them were the biggest names in US design – Eero Saarinen, Charles and Ray Eames, Richard Neutra, Pierre Koenig and Raphael Soriano among them. Though a number of projects were left on the drawing board, eventually some two dozen were built, in or near Los Angeles, and 19 survive (one was lost in the catastrophic wildfires that ravaged the city in late 2019, though its owners say they will rebuild).
The Eames House is arguably the project's finest achievement, nestled into the hillside of Pacific Palisades
The most renowned of the lot is probably Koenig's Stahl House (No 22), a rectilinear, cantilevered glass box, floating off the edge of the Hollywood hills – immortalised by a 1960 photograph by Julius Shulman showing two women in cocktail dresses relaxing on chairs with the twinkling city lights spread out beneath them. Koening's Walter Bailey House (No 21) is another minimalist masterpiece: built from low-rise steel frames, with a shallow pool draped around, it resembles a Japanese courtyard home stripped back to its essentials.
The Eames House (No 8) is arguably the project's finest achievement. Nestled into the hillside of Pacific Palisades, the building is made up of two double-height, glass-and-steel boxes, one a house, the other a studio, with open-plan spaces and dashes of perky, Mondrian-like colour on the facade. Though many of the Case Study Houses still look like prototypes, albeit surpassingly refined ones, the Eameses lived here, and it shows: theirs is a real home.
The Broad
Many date the revitalisation of downtown LA to the arrival of Frank Gehry's Disney Concert Hall in 2003. Unlike Arata Isozaki's 1980s bunker-like Museum of Contemporary Art nearby, barely visible at street level, the Disney – a writhing mass of forms in Gehry's signature titanium – announced in the loudest possible terms that the centre of the city was no longer a no-go area, but a burgeoning cultural hotspot.
For my money, though, the most distinctive new cultural building in the area is the Broad museum  (pronounced 'Brode') across the street, completed in 2015, and named after the real-estate developer who commissioned it from the New York practice Diller Scofidio + Renfro.
It is open and airy, and – courtesy of Los Angeles' best natural asset, the light – beautifully illuminated  
As you get close, it's startling, even a little overwhelming: a super-sized, white-metallic box, perforated by hundreds of angular gashes and a sinister-looking window that resembles an always-open eye. And once you stroll in, things get even weirder: the lobby is like a cavern, shadowy vaults of what appears to be concrete pressing down on you, inviting you to be whisked up to the galleries by an escalator that disappears into the void. The architects describe the contrast as the 'veil' and the 'vault': a thin skin draped over an opaque core that is the heart of the museum. Others, not quite so moved by its architectural poetry, have said the building resembles a cheese grater.
The gallery spaces upstairs are generous, however, open and airy, and – courtesy of Los Angeles's best natural asset, the light – beautifully illuminated. Even better, when you come back down to earth, windows give you sneak glimpses behind the scenes into the museum stores. Some say it's brash, even a touch overbearing – but how very LA.
If you would like to comment on this story or anything else you have seen on BBC Culture, head over to our Facebook page or message us on Twitter.
And if you liked this story, sign up for the weekly bbc.com features newsletter, called The Essential List. A handpicked selection of stories from BBC Future, Culture, Worklife and Travel, delivered to your inbox every Friday.