The Alpine region that never sleeps: after-dark fun in Austria's SkiWelt Wilder Kaiser-Brixental area | Ski Tirol in Austria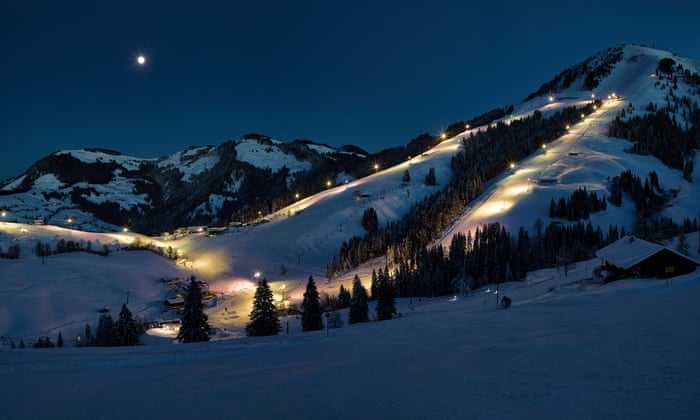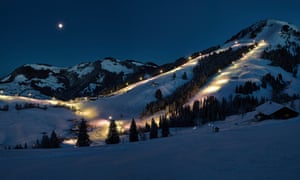 There is nothing like the feeling of still being out, high on the shoulder of an Alpine peak, when the pink-peach of the evening Alpenglow dwindles to grey, and the icy black of night takes hold, making smoke of your breath.
In Tirol's vast SkiWelt region, you could be up the mountain in the dark of night for many good reasons – for apres ski, of course, for adventure, doing a high-energy, adrenaline-fuelled activity, or something utterly romantic …
By day, superb skiing, snowboarding and winter activities take place across Tirol's SkiWelt Wilder Kaiser-Brixental region, a huge and varied resort comprising six linked ski areas and nine charming villages.
But there's stacks of thrilling after-hours action on offer too. Söll, perhaps the best-known of the resorts to Brits, is renowned for its night skiing, as Austria's biggest night ski area, with five groomed pistes lit up with lights until 9.30pm, a floodlit snowpark and tobogganing day and night on special runs, plus a valley descent you can ski until 10.30pm. Ellmau, too, has night tobogganing.
Every fun day on the mountain has to end with apres ski, and you'd need longer than a week to sip a spiced glühwein (mulled wine) or flügel (a popular Austrian ski drink of Red Bull, vodka and cranberry) in each village's cosy mountain inns and slopeside hideaways. Among them are Soll's Moonlight bar, with several levels, and Fabels in Ellmau, both with live DJs. From 7-29 March, there's even more live music than usual for the Apres Ski Weeks festival, with folk music, jazz and rock in the mountain huts, and free ski guides on hand to lead revellers between them.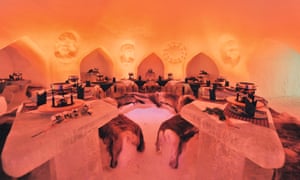 The most romantic thing to do after dark has to be visiting the Alpeniglu village at Hochbrixen, where 18 igloos offer overnight stays, parties in an ice bar and an ice art and sculpture exhibition. The sudden cold that arrives at night can shock like a punch, but here guests are soon cosied up, wrapped in furs and sipping hot wine. Sundowners in the domed bar carved from ice are followed by a fondue at private ice dining tables, a snowshoe treasure hunt in the forest, or a nightcap by the campfire. Then you can snuggle into Arctic-grade sleeping bags on piles of reindeer furs where you remain toasty warm until the morning.
Skiers of all levels are in for a treat here – it's one of the biggest and most modern ski resorts in the world, with 90 cable cars and lifts accessing 176 miles of slopes across the linked ski areas of Brixen im Thale, Ellmau, Going, Hopfgarten, Itter, Kelchsau, Scheffau, Söll and Westendorf. Each resort has its own character and cool features: Westendorf has fun parks and a snowboarding scene; Ellmau is known for its huge diversity of runs, remarkable viewpoints and fun parks; Scheffau is great for learner pistes and easy cruising blues; and Hopfgarten is the perfect place for astounding views, especially from the top of the Hohe Salve peak, home to a little pilgrimage church and where 70 peaks over 3,000m can be viewed from the top, including the Grossglockner, Austria's highest mountain.
If you've ever skied in one of those cranky old resorts, with lifts that break down all the time, poor piste maintenance, and shonky overpriced cafes … well, SkiWelt isn't like that. This is a resort striving to be one of Austria's best, constantly upgrading, and with a drive towards sustainability. Most of the resorts have snowparks, there are many long runs down to the valley, challenging steep pistes and backcountry for advanced skiers, including long scenic tours such as the SkiWelt tour, which has 21 valley runs, or perhaps your own ski safari across the whole area. But it's perfect for first-timers and families too, with gentle beginners' sections in each resort, and an easygoing vibe. Even the terrain has a friendly look, no scarily severe-looking peaks, just the beautiful iconic limestone outcrop that gives the SkiWelt region its identity, rising above everything.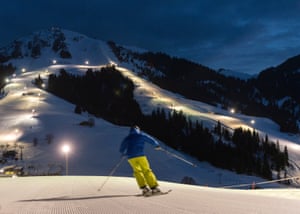 This season, a new eight-person chairlift, the Fleidingbahn, with heated seats and bubble cover, rolls into action in the SkiWelt Westendorf, up to the ski area's highest point at 1,892 metres. In Hochbrixen, a new Zinsbergbahn lift will replace the old, combining eight-seater chairs and large gondolas, the first of its kind in the Kitzbühel Alps, which also generates photovoltaic electricity year-round. SkiWelt Brixen has a solar-powered system for snowmaking that only uses reservoir water from rainwater and snowmelt, there's free charging for electric cars in several spots and the whole resort now relies on renewable energy. These efforts have won the region several awards. Those who want to minimise their own carbon footprint while visiting can reach SkiWelt by train from London St Pancras via Amsterdam, travelling overnight on the Alpen Express sleeper train to the gorgeous, characterful city of Kufstein nearby (worth visiting for a day in its own right, for its beautiful medieval old town, cobbled streets, towering fortress and Stollen, a cavernous, speakeasy gin bar that has the world's largest gin gallery; more than 1,000 varieties).
Yet, aside from the investment in constant modernisation, this is a region soaked in the warmth of traditional Austrian hospitality. The historic mountain inns (of which there are 81) feel somehow polished yet cosy and rustic, and cater amazingly well for kids.
The family-owned Kaiserhof Ellmau, for example, is right on the slopes, with a huge spa and wellness area, amazing views, kids' club and an award-winning kitchen that's won two prestigious Gault Millau torques for its creative twists on local classics.
Others have play areas that would be paid-for attractions in their own right in the UK, with unique and witty touches that are pure magic for little ones.
Across every aspect, this is an area that knows how to have fun.