Eurozone manufacturing recession continues, but China's factories recover – business live | Business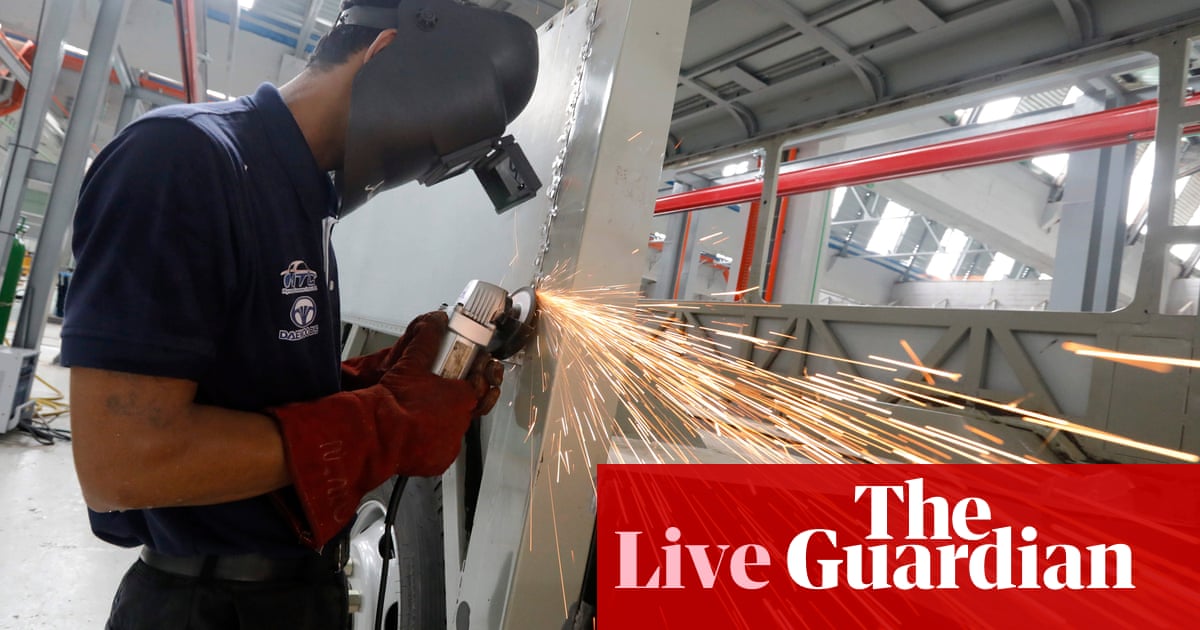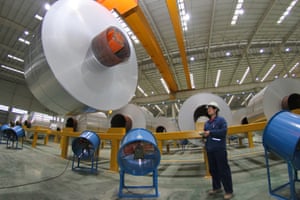 Good morning, and welcome to our rolling coverage of the world economy, the financial markets, the eurozone and business.
A new month means a new healthcheck on the world's manufacturing sector.... and welcome signs of improvement from China. But Europe, and the UK, may continue to struggle.
Growth at Chinese factories has hit a three-year high in November, according to the latest healthcheck from Caixin/Markit.
Companies reported a "solid increase" in both output and new business last month, including a pick-up in orders from overseas.
This suggests that the shock of the US-China trade war may be fading.
The survey says:
New business rose strongly, which underpinned a further solid increase in production. Notably, new export orders saw the first back-to-back monthly rise for over a year-and-a-half.
Bosses also reported that they have stopped slashing staffing levels:
Staffing levels were broadly stable following a seven-month sequence of decline, but capacity pressures persisted, with backlogs of work expanding again.
This pushed the Caixin China manufacturing PMI up to 51.8, up from 51.7, which is its highest level in three years. Any reading over 50 shows growth.
Here are the key points:
Solid increases in output and new business
Employment broadly stable
Inflationary pressures remain weak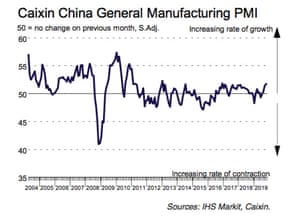 Confusingly, there's also a separate official Chinese factory PMI, released last weekend. It also showed a rise in output (up to 50.2, from 49.3), bolstering hopes that manufacturers are resisting trade tensions.
Reaction to follow....
Also coming up today
New PMI data from the eurozone, and the UK, will show whether their factories are still struggling. Last month's 'flash' PMI readings showed that Britain's manufacturing was contracting in November, so today's data could be a disappointment.
The European Central Bank's new president, Christine Lagarde, is testifying to the European Parliament. Expect questions about Europe's weak growth, the ECB's stimulus programme, and its plans to fight the climate emergency.
The agenda
9am GMT: Eurozone manufacturing PMI for November. Expected to rise to 46.6 from 45.9, showing a slower contraction
9.30am GMT: UK manufacturing PMI for November. Expected to fall to 48.3 from 49.6, showing a faster contraction
2pm GMT: ECB president Christine Lagarde testifies to the European Parliament
3pm GMT: US manufacturing PMI for November. Expected to rise to 49.2, from 48.3, showing a slower contraction
Source link