BBC - Culture - Ten films to watch this December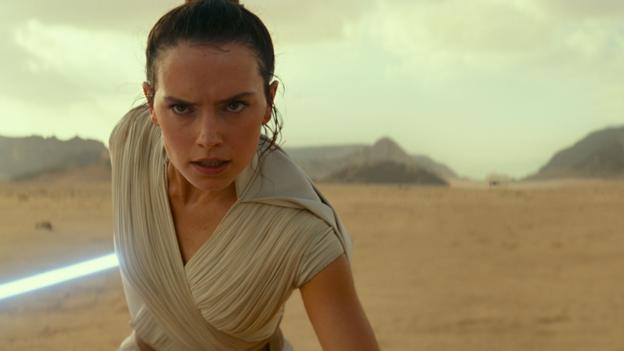 Little Women
Do we need another film of Louisa May Alcott's 19th-Century coming-of-age novel? There have already been seven – including Gillian Armstrong's 1994 adaptation – and the most recent of those, a modern-day retelling, came out just last year. Still, the new Little Women, written and directed by Greta Gerwig (Lady Bird) could be big. Chris Hunneysett at the Daily Mirror enthuses that "this joyous, moving and funny adaptation of the much-loved literary classic bursts with wit, warmth, beauty and intelligence". The four March sisters are played by Saoirse Ronan (as Jo), Emma Watson (as Meg), Eliza Scanlen (as Beth), and Florence Pugh (as Amy), and the supporting cast numbers Meryl Streep, Laura Dern and Timothée Chalamet.
Released on 25 December in the US, Canada and Spain, on 26 December in the UK and Brazil
Bombshell
One day, Hollywood is sure to make a film about its own recent sexual-harassment scandals. In the meantime, Jay Roach's snappy docudrama shines a spotlight on similar wrongdoings in the television industry. Charlize Theron stars as Megyn Kelly, a Fox News anchor who was bombarded by misogynistic abuse after she hosted a town-hall debate with Donald Trump, alongside Nicole Kidman as her colleague Gretchen Carlson, and Margot Robbie as a fictionalised Fox recruit. All three women are subjected to the wheedling advances of their slimy boss Roger Ailes (a fat-suited John Lithgow), but they soon learn how difficult it is to be a whistleblower – and how easy it is for everyone else to ignore their claims.
Released on 20 December in the US and Canada
Spies in Disguise
In this 007-spoofing children's cartoon from the studio behind Ice Age and Robots, Will Smith provides the voice of Lance Sterling, a James Bond-alike secret agent, and Tom Holland is Walter Beckett, the Q-alike gadget specialist whose experimental "bio-dynamic concealment" technology goes too far. How far? Well, it turns Lance into a pigeon. He isn't too pleased about his new identity, but Walter sees the upside: pigeons can fly at 90mph, and they can go anywhere without being noticed, so they're perfect for world-saving espionage. Fair enough – but what would happen if Lance flew anywhere near the cast of Cats?
On general release from 25 December
Uncut Gems
Fancy a nice, relaxing, feel-good film? Then avoid Uncut Gems at all costs. Everyone else, though, should take this hectic ride down New York's scuzziest mean streets, courtesy of the writer-directors of 2017's Good Time, Josh and Benny Safdie. Adam Sandler gives his best-ever performance as a jeweller who might just make a fortune if he can avoid a pack of violent debt collectors. The spiralling plot, relentless pacing, pounding music and woozy visuals may bring on an anxiety attack, but Luke Channell at HeyUGuys says that this "heart-pounding, nerve-shredding, deceptively funny masterpiece... should catapult the Safdie brothers into the mainstream as experts in high-octane cinema".
Released on 25 December in the US
A Hidden Life
Terrence Malick's last couple of films have involved actors wandering around for hours on end, unsure of where to go and what to say. But there is a renewed sense of purpose in the great writer-director's spiritual period drama, A Hidden Life. A biopic of Franz Jägerstätter (August Diehl), an Austrian farmer who refused to sign an oath of loyalty to Hitler during World War Two, Malick's three-hour return to form is a meditation on the sustaining power of faith, love and nature, as well as an angry rallying cry which should be heard everywhere today. It also features some of the most rapturously beautiful Alpine vistas since Julie Andrews was trilling The Sound of Music. David Sexton at London's Evening Standard says that A Hidden Life is "a work of genius" and a "justification of Malick's late style".
Released on 11 December in France and 13 December in the US
Star Wars: The Rise of Skywalker
Whether you class it as the third episode in the third Star Wars trilogy or the ninth episode in an over-arching ennealogy, the trailers for Star Wars: The Rise of Skywalker promise that "the saga will end", which means that we'll be seeing the last of Rey, Finn, Poe, and the other regulars. At least... we'll be seeing the last of them until they inevitably come back for another saga in a few years from now. Before that, Episode IX boasts the fan-pleasing return of Palpatine (Ian McDiarmid) and Lando Calrissian (Billy Dee Williams), and the introduction of a new character played – much to his glee – by Richard E Grant. Princess Leia will be in it, too, in archive footage of the late Carrie Fisher.
On general release from 18 December
Cats
When the first Cats trailer was released in July, internet commentators were united in horror at the sight of James Corden, Judi Dench, Idris Elba, Ian McKellen, Taylor Swift and Rebel Wilson coated in computer-generated fur. Stuart Heritage at the Guardian even confessed that the "footage of screaming, digitally augmented, uncanny valley feline hell-mutants... made me vomit, and wet myself". But Andrew Lloyd Webber's musical, adapted from a book of poems by TS Eliot, has been packing out theatres around the world since 1981, so don't be surprised if Tom Hooper (The King's Speech, Les Misérables) has cinema audiences purring this Christmas. If nothing else, you can bet that Jennifer Hudson will be belting out Memory at the Oscars in February.
On general release from 19 December
1917
British directors of a certain age like to have a bash at prestigious war epics. In 2017, there was Christopher Nolan's Dunkirk and Joe Wright's Darkest Hour. And now Sam Mendes follows his Bond movies, Skyfall and Spectre, with a stunning World War One drama based on a true story he heard from his novelist grandfather. George MacKay and Dean-Charles Chapman play two young soldiers who have to race through enemy territory to deliver a message that could stop 1,600 of their fellow Brits being massacred. The most impressive aspect of 1917 is that the whole film appears to be shot in one, long continuous take. Todd McCarthy at The Hollywood Reporter says that Mendes has made an "exemplary panorama of the horrors of war designed as an inescapable immersion in the unrelieved pressure and sheer wretchedness of the battlefront."
Released on 25 December in the US and 26 December in Israel
Citizen K
Citizen K tells a tale that would be unbelievable if it wasn't true. Alex Gibney, the prolific director of the Oscar-winning Taxi to the Dark Side and the Oscar-nominated Enron: The Smartest Guys in the Room, explores today's Russia with the help of Mikhail Khodorkovsky, a former oligarch who spent a decade in a Siberian prison at Putin's behest. Ed Gibbs at Little White Lies calls it: "Gibney's best documentary in years", a "political thriller" which is also "a wildly entertaining and timely picture of a global issue".
Released on 13 December in the UK and Ireland
Portrait of a Lady on Fire
The latest film from Céline Sciamma (Tomboy, Girlhood), Portrait of a Lady on Fire is a high-toned 18th-Century romance, full of repressed longing and elegant velvet dresses. Peter Bradshaw at The Guardian says: "I was on the edge of my seat. Portrait of a Lady on Fire has something of Alfred Hitchcock". An artist, Marianne (Noémie Merlant), is hired to paint the portrait of an heiress, Héloïse (Adèle Haenel), for her prospective husband. But when the two women are left alone together in a seaside chateau, they realise that the marriage won't make Héloïse happy. Sciamma won the best screenplay award at the Cannes Film Festival in May – and many critics felt that she deserved more prizes than that.
Released on 6 December in the US, 13 December in Sweden, 19 December in Italy and 26 December in Australia
Love film? Join BBC Culture Film Club on Facebook, a community for film fanatics all over the world.
If you would like to comment on this story or anything else you have seen on BBC Culture, head over to our Facebook page or message us on Twitter.
And if you liked this story, sign up for the weekly bbc.com features newsletter, called The Essential List. A handpicked selection of stories from BBC Future, Culture, Worklife and Travel, delivered to your inbox every Friday.
Source link