Dan Evans holds nerve as Britain beat Germany in Davis Cup quarter-final | Sport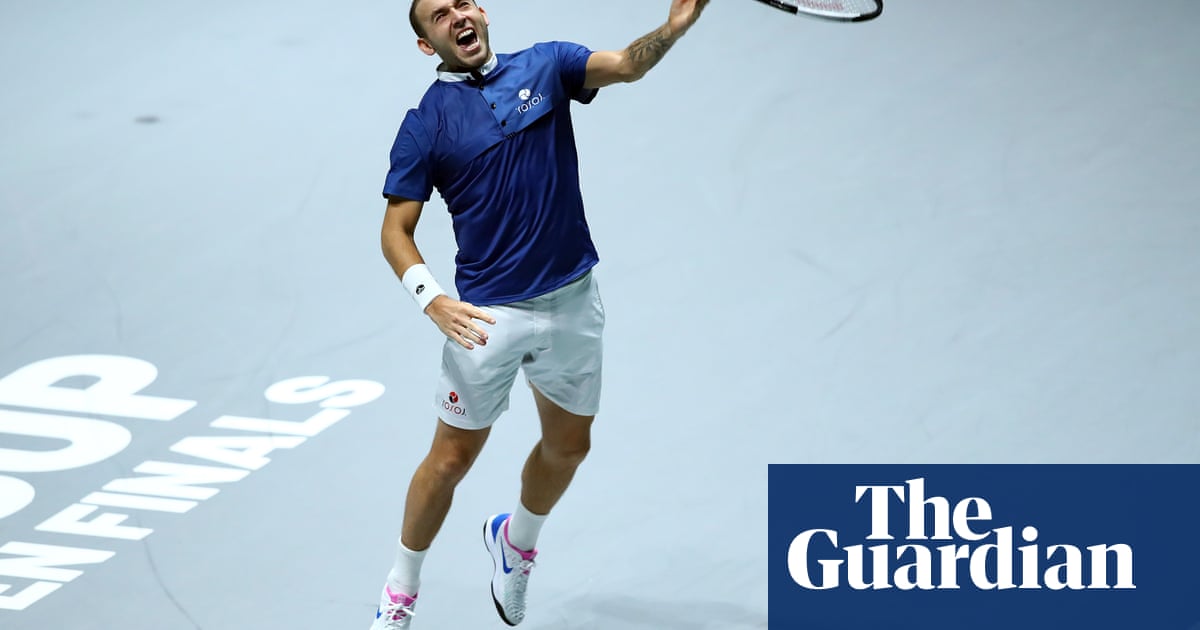 As this crazy Davis Cup splutters towards its climax, Great Britain will return to the semi-finals for the third time in five years on Saturday hoping Andy Murray has recovered from the thigh strain that kept him out of Friday's 2-0 quarter-final win over Germany.
However, the team captain, Leon Smith, refused to guarantee the former world No 1 a starting place after Kyle Edmund and Dan Evans performed so heroically while Murray was resting from a grinding win on Wednesday that left him spent and uncertain if he could toe the line this weekend.
Murray later posted on Instagram: "Is [sic] there any Brits over in Madrid right now that want to come watch us in the Davis Cup semi-final tomorrow? We will try and sort as many tickets as possible for anyone who wants to come support." He might well be sitting alongside them.
Speaking after Evans's heartwarming 7-6 (6), 3-6, 7-6 (2) win over Jan-Lennard Struff in the second rubber, Smith explained why he did not risk Murray against Kazakhstan or Germany."Where Kyle and Evo are at is ahead of where Andy is just now, in terms of how he's feeling," he said. "And when you've got two very, very good players like Kyle and Evo that are ready to go, then that's what we do."
While the party line is that Murray does not feel his fitness levels after a five-week break are ideal, he also is carrying a thigh strain, the Guardian has learned. As for whether he would be ready for Saturday evening semi-finals, Smith said: "He could play, but I wouldn't say he's in his best condition, as he said the other day. He says that's how he's feeling, so we have to keep talking about it. I can't say much more than that. It's where he's at right now. We'll just have to see what's needed, or if it is needed. We may go with the same."
He said there was always the possibility Andy could play with his brother, Jamie, in the doubles, but did not think it likely.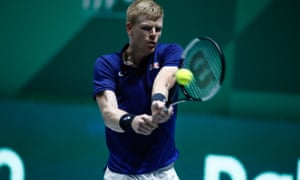 "They've played brilliantly," he said of the older Murray brother and Neal Skupski."It's tough to split them up after what they've been doing.. I don't think we'll change it. But again, it depends. Neal has been absolutely excellent, as has Jamie. But, if you get to a match at one-all, then, of course, you have to think about things. It's not really in the thoughts just now."
Edmund set the tone for the tie on Friday by beating Philipp Kohlschreiber 6-3, 7-5 in the first match and Evans, who lost both his group-stage matches from winning positions, rendered a penalty shootout (otherwise known as the closing doubles) redundant with a bruising win over Struff. At the end, he threw his racket in the air and joined Smith in a tearful embrace on court.
"The last two days for me after losing were pretty tough," Evans admitted. "With Andy not playing and Kyle doing a great job, it made it way easier for me to be in such a tight situation, and they were all behind me on the bench. For everyone who's helped us to all get on court, it was so good to just get the win for them. It means just as much for the guys who aren't on court as the guys on court to win. I don't know what happened. I just let go and it felt amazing to get through that match, to get us into the semis."
In front of maybe a thousand fans, the atmosphere on Court 2 did not support the World Cup of Tennis of marketing imagination However, while it was not exactly time-travelling back to Wembley Stadium in 1966, there was throaty support for both teams from those who had lasted the week of the new format, mostly British, many of them Scots, none of them in danger of causing crowd trouble.
The format that brought the best 18 teams in the world together for a week had plenty of teething problems, but much goodwill, as well. The main problem is the scheduling of such a tough event at the end of a long season – and six weeks before the new ATP Cup, which starts in Australia on 3 January.
The Davis Cup's driving spirit, Gerard Piqué – who plays for Barcelona in Madrid on Sunday – is honest enough to admit the two team competitions might one day merge. For now, the tournament that replaces the 119-year-old Davis Cup moves on, buoyed by many fine and exciting matches but marred by a string of avoidable cock-ups.
Source link