Trump tells Beijing to treat Hong Kong humanely or risk trade deal | World news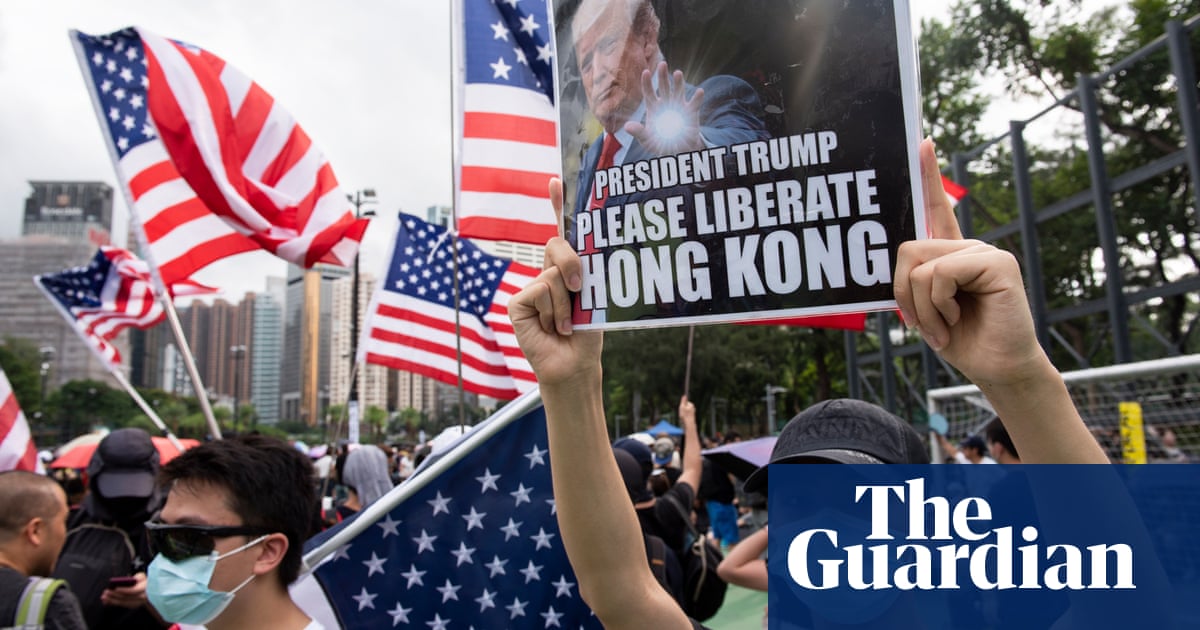 Donald Trump has urged Beijing to treat Hong Kong "humanely" in order to reach a trade deal, in his most extensive comments yet on weeks of increasingly violent unrest in the territory.
"Millions of jobs are being lost in China to other non-Tariffed countries. Thousands of companies are leaving. Of course China wants to make a deal. Let them work humanely with Hong Kong first!" the US president tweeted.
"I have ZERO doubt that if President Xi wants to quickly and humanely solve the Hong Kong problem, he can do it," he said in a subsequent tweet, suggesting a "personal meeting" with his Chinese counterpart, Xi Jinping.
Trump's intervention came as footage of paramilitary movements along China's border with Hong Kong emerged and official Communist party media warned "anti-China forces" would be stopped.
Satellite footage taken on Monday showed Chinese paramilitary vehicles gathered in a stadium in Shenzhen, a mainland city across the border from Hong Kong. Footage on Thursday showed thousands of military personnel in the stadium.
On Wednesday, the official Wechat account of the eastern district of the People's Liberation Army posted an image of the vehicles in the stadium and with a map marking the distance to the Hong Kong airport, and quoted speeches by former Chinese leader Deng Xiaoping that the "central government must intervene" in the event of "turmoil" in Hong Kong. The post has since been deleted.
The US state department said it was "deeply concerned" about the movements along the border and urged Beijing to fulfil its commitments to Hong Kong and allow it a "high degree of autonomy" under the terms of its return to Chinese sovereignty in 1997.
Chinese state media reported that the mobilisation was for previously planned exercises for the military, based in Shenzhen as well as within Hong Kong, and in more than a dozen cities in China's Guangdong province, which neighbours the city.
State media have previously posted images of military and police exercises, probably intended as a warning to Hong Kong as well as appealing to nationalist audiences in the mainland.
Analysts say military intervention would have disastrous results for China as well as Hong Kong. But as the mass protests enter their third month, the warnings from Beijing have grown more trenchant and officials have hinted that military intervention is possible.
Chinese officials have described the protests in Hong Kong, which have devolved into frequent clashes between protesters, residents, and the police, as "terrorism" and an effort to topple the government.
On Thursday, the People's Daily, the official voice of the ruling Chinese communist party ran a front-page article criticising protesters who seized a state media reporter during tense confrontations at the Hong Kong airport this week.
"What they really want to is to fight against Hong Kong and engage in a "colour revolution," read the article, among the first to appear on the paper's front page. The editorial warned the "black hands" behind the protests that "1.4 billion Chinese people are united and will stop any damage to the country and its people. Dream on."
Despite the warnings from Beijing, protesters and residents continue to rally throughout the city. On Wednesday evening, demonstrators burned joss paper and pointed lasers at a police station in Sham Shui Po in Kowloon, prompting the police to fire teargas in the residential area.
Demonstrations by teachers, pet owners, and public transport workers were planned through the rest of the week as well as a large march on Sunday.
Protesters have staged 10 weeks of relentless marches and demonstrations to demand greater freedoms in Hong Kong, including rallies that paralysed the semi-autonomous city's airport, one of the world's busiest travel hubs.
Beijing has accused western countries, in particular the US, for instigating the protests. Chinese officials have not provided concrete evidence of the alleged foreign interference but state media reports and editorials frequently push the narrative.
While US lawmakers and officials have issued statements of support for the protests, Trump has remained neutral, referring to the demonstrations as "riots" and an internal matter for Beijing.
On Tuesday, he said the situation in Hong Kong was "tricky" but hoped it would be resolved "for liberty" without anyone getting hurt or killed.
Source link