Scores arrested in Paris as gilet jaunes target Champs Élysées | World news
Category: Political Protests,Politics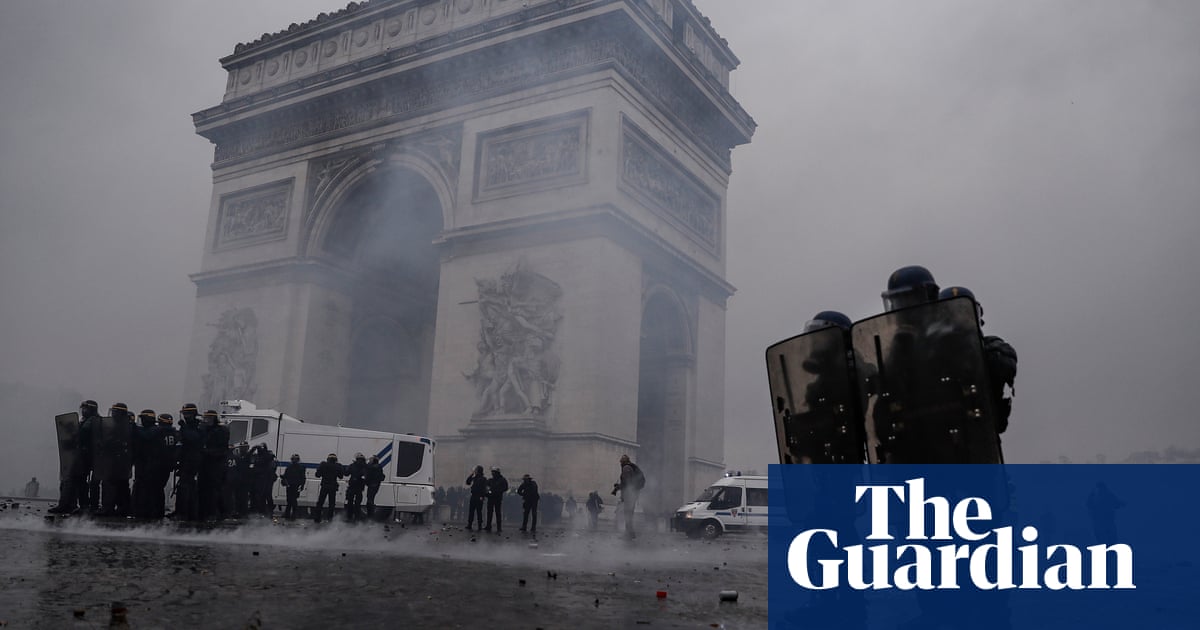 French police have clashed with protesters in central Paris after thousands converged on the Champs Élysées, in the latest eruption of anti-government sentiment fuelled by rising taxes.
More than 122 people were arrested as crowds grouped under Paris's famous Arc de Triomphe in a standoff with riot police who fired tear gas and water cannon. The French interior ministry blamed extreme-right and far-left demonstrators for deliberately stoking unrest at the Arc de Triomphe while around 5,000 peaceful demonstrators marched down the nearby Champs Élysées, some carrying roses.
Earlier on Saturday morning, demonstrators had tried to breach barricades blocking the path to the presidential palace, lighting fires, throwing rocks and spraying police officers with vivid yellow paint.
The gilets jaunes (yellow vests) protests are posing one of the most sustained challenges yet to Emmanuel Macron's leadership. Hundreds of thousands of protesters have barricaded roads and blockaded toll-booths and fuel depots across France over the past two weeks, complaining that Macron's pro-business tax policy was unfair and that people on low-income jobs could not make ends meet.
Motorists initially demonstrated against a fuel tax increase two weeks ago, but the protesters, who have no leader and have largely organised themselves online, now have much broader demands and further actions have followed.
There are claims that more radical groups have infiltrated the grassroots movement. The French interior minister, Christophe Castaner, tweeted that "1,500 troublemakers" were on the Champs Élysées, which was closed to cars and tightly monitored by police with identity checks and bag inspections as boutique shops boarded their windows and dismantled outdoor terraces.
He said 200 peaceful yellow vests protesters were also in attendance. They sat beneath the Arc de Triomphe singing La Marseillaise, France's national anthem, while chanting for Macron to resign. "The yellow vests will triumph," was daubed across the facade of the 19th-century monument in large black letters.
Six police officers and 14 protesters were injured, according to government sources. Nearby metro stations were closed.
"What message do the yellow vests want to pass today? That we set France on fire, or find solutions? I find this [violence] absurd," Jacline Mouraud, a prominent activist within the yellow vests movement, told BFM television.
A retired yellow vests protester said: "The government is not listening. Revolution cannot happen without violence."
Police unions said there were more than 30,000 people protesting across France on Saturday, with 582 roadblocks erected.
Macron said last week that he understood the anger people felt over the rise in fuel tax, and promised three months of national talks on how to transform France into a low-carbon economy without penalising the poor.
However, government attempts to negotiate with the movement – some of whom are demanding a moratorium on January's tax rises – have failed. "We want our dignity back and we want to be able to live from our work, which is absolutely not the case today," Jason Herbert, an apparent spokesman for the movement, said after walking out of talks with prime minister Edouard Philippe on Friday.
Hundreds of people have been injured and two people have been killed in car accidents since the protests began on 17 November, though polls suggest the demonstrations are supported by most French people. The protests have also spawned copycat protests in Belgium.
Source link