Gilets jaunes in court over violent protests | World news
Category: Political Protests,Politics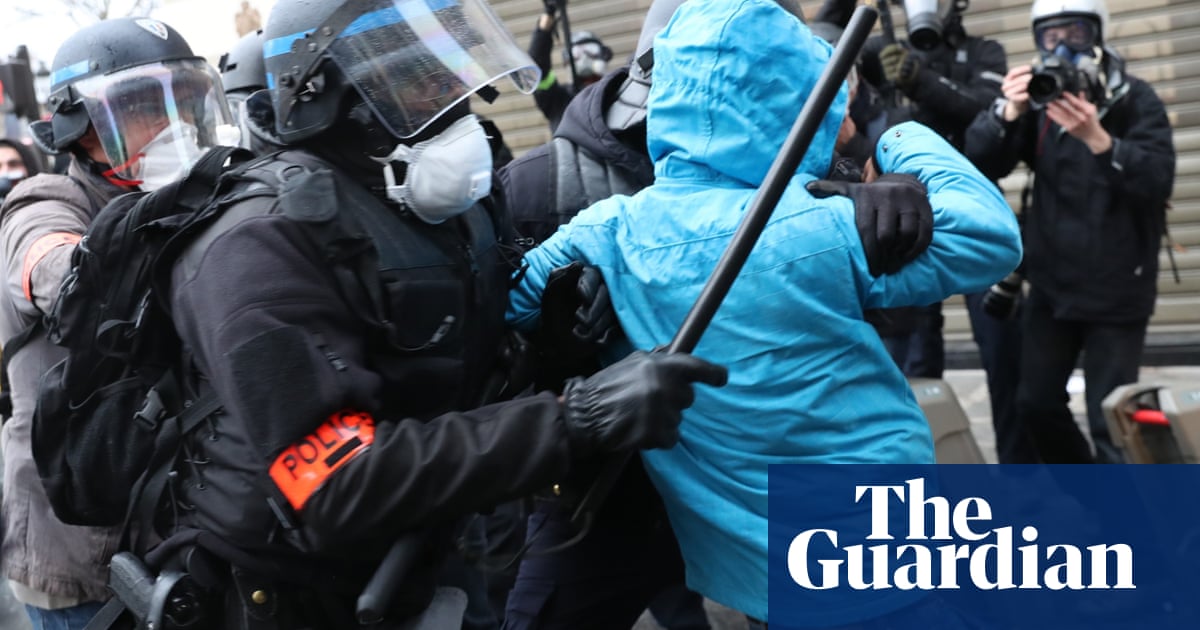 In the newly built correctional court on the outskirts of north-west Paris, the gilets jaunes – minus their high-visibility vests – passed in and out of the glass walled docks in quick succession.
It was a depressing performance in which the main actors seemed to be missing, leaving a cast of extras to take centre stage in France's latest national political drama.
The accused were mostly young men in their 30s, some a little younger, a few older, neatly dressed in smart but sombre clothes.
Well-spoken, tidy, clipped beards and short hair, these gilets jaunes (yellow vests) seemed hardly the stone-throwing, shop-smashing rabble those packed into the public benches had come to watch.
Few earned more than €1,200-€1,500 a month and they admitted it was a struggle to make ends meet. They were largely unknown to the police until now and had just spent their first nights in jail.
"To be honest, they don't look like vandals and looters," a woman from the public benches said. She and her husband, from one of the chic areas of Paris devastated in last Saturday's clashes between protesters and police, had come out of curiosity to see who was responsible. What does one look like? I asked. She shrugged: "Not like that."
Among the 378 people arrested in Paris last weekend, 33 were minors. Almost 140 of those arrested had their cases heard in urgently convened courts this week, 110 were still in custody and 81 were released without charge.
They were not there because they had been demonstrating; that was a fundamental right, the judges declared, but because they were accused of being casseurs – vandals, looters, rioters, breakers. The proof was in their pockets and bags: stones, gloves, sticks, slingshots, even fireworks.
As their names were read out they stood in the dock, shocked and chastened, and recounted their stories.
Then they were gone, to jail or back home, and some cases were adjourned for sentencing.
Outside the 23rd and 24th correctional chambers, a mother, on the verge of tears, told journalists: "It's the first time my son has taken part in a demonstration. Young couples have nothing to live on these days, everyone has had enough and now they're accusing my son of being a vandal."
A lawyer, clutching a stack of files, suggested police had picked up easy targets – those at the edge of the clashes – rather than the masked hoodlums seen hurling stones at police, setting fire to vehicles and smashing shop windows. "The real rioters and looters never manage to get themselves caught. They run fast," he said.
Cases
Sebastian, 40, had come to Paris by TGV from Strasbourg last Saturday, to "see what was happening". He'd been drinking, on the train before he arrived and after, and admitted he had an alcohol problem. He was arrested at 11.20pm after being seen kicking a shop window. Sebastian said he was having an angry conversation on the mobile with his girlfriend at the time, and had just given the window a backward tap with his foot. He didn't remember damaging it. He worked as a forklift truck operator earning €1,200 a month out of which he paid €300 a month for his council flat. He had two children with his girlfriend, but they did not live together, his mother was being operated on for lung cancer this week and his arrest meant he would almost certainly lose his job. There were giggles in court when he said he'd been looking for a hotel in rue de la Boétie, off the Champs-Élysees, one of the most exclusive streets in Paris. Sebastian didn't laugh. "I don't know Paris," he said. The prosecutor asked for a three-month jail term and the case was adjourned for sentencing. "Au revoir," Sebastian told the bench as he stood. "Oh we will most certainly see you again," said one of the magistrates.
Pierre, 22, was found to have five bottles of "strong alcohol", a black hat and a high visibility vest in his backpack when he was arrested. He had come to Paris from the Jura in eastern France. The court was told police found texts on his phone to friends suggesting they should "come armed". "What did this mean?" the judge asked. "Just that we should be prepared, you know, with gloves for the cold," he said. "Not armed, armed?" insisted the judge. "No, just prepared." The five bottles were bought in a Carrefour shop on Friday night, he insisted. Told that the shop had no record of the sale, Pierre shrugged. Did he know about the off-licence that had been looted near where he was arrested? "No. We brought the bottles with us. We were going to have a fun weekend … We just came to show a bit of solidarity. To have our voices heard, that's all," he said.
Azdine, 30, wearing a smart black padded jacket said he had come to Paris from the suburbs on his own. He'd never been to a demonstration before and had no criminal record. He was with a group recorded on CCTV trying to smash the glass doors of the Palais de Congrès, a trade and exhibition centre, north-west of the Arc de Triomphe, with a stolen forklift truck. Azdine hadn't been driving but was near the truck. He told police he had even tried to stop it by pulling on the handbrake. He was found with three stones in his pocket but denied he had intended to throw them at police. "People were saying to pick up stones and I picked them up, but I never used them. They were to defend myself." Against whom? he was asked. "I don't know. I was in the wrong place at the wrong time." Azdine was unemployed but had a diploma in accounts and management and was trying to get back on his feet after having to leave his family home. For a while he'd lived in an old car, then in a friend's office. He'd previously earned €900 a month out of which half went on renting a studio flat. His lawyer said his situation was "precarious".

Tristan, 30, was arrested near the Arc de Triomphe. An agricultural worker from the Drôme in south-east France, earning €1,200 a month, he'd come to Paris with three friends. Described by his employers as "timid", and barely audible in court, he said he'd been carried away in the moment and had climbed to the top of the monument. "There was lots of teargas, I went up their just to be able to breathe a little. And to take a photo," he told the court. When a police officer tried to arrest him he ran. The officer claimed he grabbed his truncheon but Tristan insisted he'd slipped on it and told the judge he didn't know why he had fought. Tristan's lawyer cited his otherwise clean criminal record but he was jailed for three months.
Source link