'It's time for women to be heard': thousands protest Kavanaugh in Washington | US news
Category: Political Protests,Politics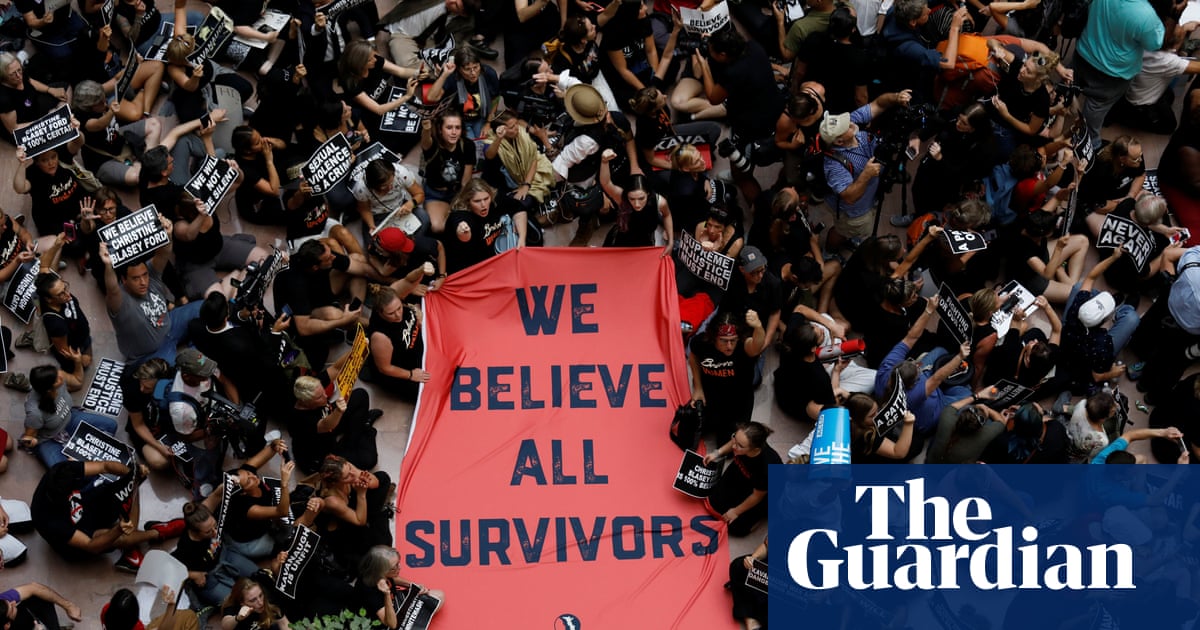 Thousands of protesters, among them victims of sexual assault, have descended upon the US Capitol with a desperate final appeal to lawmakers to reject embattled supreme court nominee Brett Kavanaugh.
The demonstrations began early Thursday afternoon, one day before the US Senate is poised to take its first vote on the judge's nomination to America's highest bench. Many protesters and activists had traveled to the nation's capital from across the country. They marched to a rallying cry: "We believe Dr Christine Blasey Ford", the university professor who has accused Kavanaugh of drunkenly and violently sexually assaulting her at a party when they were teenagers.
The scenes were unprecedented for any supreme court nominee in recent history; demonstrators gathered outside the courthouse in Washington where Kavanaugh currently sits as a federal judge and walked in unison to the supreme court, where he wishes to serve.
"It's time for women to be heard," said Karen Bralove, an alumnus of Holton-Arms, the all-girls preparatory school Ford attended in the early 1980s when she alleges Kavanaugh attempted to rape her.
"I don't know whether Brett is going to be confirmed, but women and survivors are not going to be quiet any more."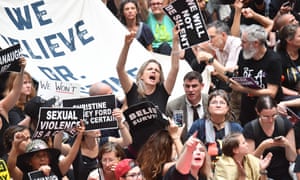 As protesters brandished signs that read "Kavanaugh lies" and "Never again" outside the steps of the supreme court, senators huddled behind closed doors in the Capitol on the other side of the street to digest the findings of an FBI investigation into the allegations against Kavanaugh. The reaction to the FBI report fell firmly along partisan lines, and the Republicans are in the majority in both houses of Congress, but those who took to the streets said they weren't giving up hope just yet.
Events on Capitol Hill were moving swiftly, in real-time, as an array of lawmakers, activists and sexual assault survivors by turns grabbed a megaphone from a makeshift podium outside America's highest court. The crowd roared at the news that Senator Heidi Heitkamp, a Democrat facing an uphill re-election battle in conservative North Dakota, had announced her opposition to Kavanaugh. Another undecided Democrat, Joe Manchin of West Virginia, remained undecided on Thursday afternoon.
From the exterior of the supreme court, by late afternoon demonstrators marched directly to the scene of the debate: thousands packed the atrium of the Hart Senate office building, while streams of protesters flooded each floor with chants of "Our court" and "Justice now". Many spread out banners and sat on the floor, then were put in plastic handcuffs by law enforcement and led away.
Dozens were arrested by Capitol police, including model Emily Ratajkowski.
"Today I was arrested protesting the Supreme Court nomination of Brett Kavanaugh, a man who has been accused by multiple women of sexual assault," she wrote on Twitter. "Men who hurt women can no longer be placed in positions of power."


Actress and comedian Amy Schumer, who is known as a campaigner for gun control and is involved with the Time's Up movement against sexual violence and harassment – and is a cousin of Senate minority leader Chuck Schumer – was also reportedly detained.
"You can't stay at home with something like this going on," said Angela Trzepkowski, a homemaker who drove from Delaware first thing in the morning to join the protests.
"Women are feeling empowered and stronger, and it's no longer going to be the good ol' white boys club. It can't be any more."
Source link