Amy Schumer Detained At 'Cancel Kavanaugh' Protest
Category: Celebrity,Entertainment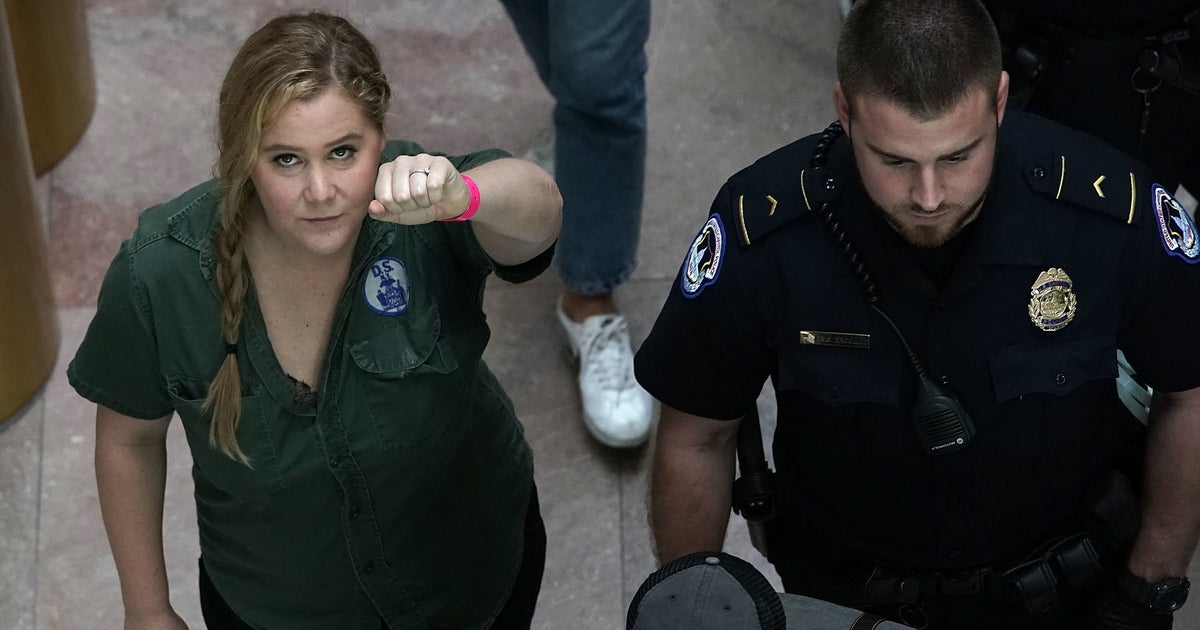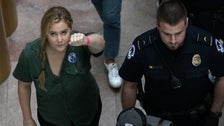 Amy Schumer was one of the hundreds of protesters detained in Washington, D.C., Thursday as they rallied to urge senators to vote no on Brett Kavanaugh's confirmation to the Supreme Court.
As "Cancel Kavanaugh" protesters took over the Hart Senate Office Building near the Capitol, Schumer and other protesters were seen with their backs against a wall, surrounded by Capitol Police. The police appeared to use pink brackets, not handcuffs, to detain protesters.
Just ran into @amyschumer who is being arrested outside the Hart Office building. I asked her what the pink bracelets were for.

"For drinking," she quipped, without missing a beat. (Colored bracelets are being used instead of ziptie handcuffs) pic.twitter.com/11ZS06D3Vk

— Melanie Zanona (@MZanona) October 4, 2018
"I think we're going to get arrested," the actress and activist said in a video message to the child of a fellow protester, sent soon before she was seen being detained.
Fellow actress Emily Ratajkowski, who was in Schumer's film "I Feel Pretty" and was photographed with the comedian at the rally, tweeted that she was arrested.
Today I was arrested protesting the Supreme Court nomination of Brett Kavanaugh, a man who has been accused by multiple women of sexual assault. Men who hurt women can no longer be placed in positions of power. pic.twitter.com/nnwq1O4qk3

— Emily Ratajkowski (@emrata) October 4, 2018
Here's what it looked like inside the Senate building: 
Earlier, thousands of protesters, including women and survivors of sexual assault, marched to the building, chanting "We will not go back" in solidarity with Christine Blasey Ford, who has accused Kavanaugh of sexually assaulting her when they were in high school.
Two other women have accused Kavanaugh of sexual misconduct, which he has denied. Many Republicans and President Donald Trump have stood by Kavanaugh during the confirmation process, which is expected to come to a final vote in the Senate this weekend.
U.S. Capitol Police said 302 people were arrested as part of Thursday's protests at the Senate office buildings. Police could not confirm if Amy Schumer was among those arrested.
Schumer's representatives did not immediately respond to a request for comment.
This story has been updated with a response from Capitol Police.
Source link