Police search for Trump protester who breached no-fly zone | US news
Category: Political Protests,Politics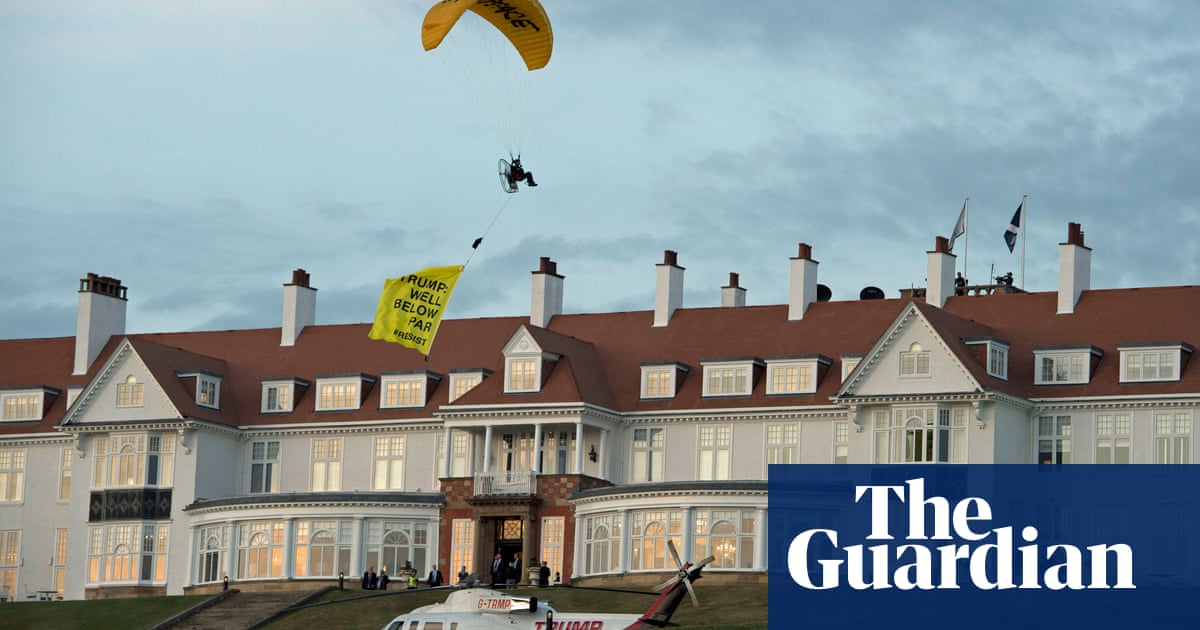 Police are continuing to search for a paragliding Greenpeace protester who broke through the no-fly zone surrounding Donald Trump's Turnberry golf resort on Friday evening, to fly past the US president as he entered the Scottish hotel.
Despite efforts to keep protesters away from the presidential party, the paraglider flew past police snipers and in front of the hotel, apparently in view of the president, trailing a banner reading "Trump well below par".

Police Scotland said on Saturday morning that "inquiries were ongoing to trace the person responsible" as more protesters began to gather for a second day of demonstrations. By 8.30am, people were congregating by the police cordon around the resort carrying banners and placards, with thousands more expected to attend demonstrations across the country.

Greenpeace said it had alerted police to the protest minutes in advance. The spokesman Ben Stewart said: "Theresa May should not have dignified Trump with a visit to the UK. The vast majority of British people are appalled by his words and deeds. He is, simply, the worst president ever. That's why we flew over him with a message branding him well below par."

Trump is expected to spend the rest of the weekend at the resort, which he bought in 2014, to end his controversial first visit to the UK as president, characterised by his own perplexing contradictions and unprecedented protests.
The secretary for Scotland, David Mundell, briefly greeted Trump as he and his wife, Melania, disembarked from Air Force One at Prestwick airport near Glasgow on Friday evening. No members of the Scottish government were present.
Trump had not requested a meeting with the first minister, Nicola Sturgeon, an outspoken critic of his policies who, according to a former staffer, the US president "totally hates". Instead, Sturgeon will spend Saturday in Glasgow leading an LGBTI Pride march.

At a rally in Glasgow on Friday evening, more than 2,000 protesters gathered and Scotland's political parties set aside their constitutional differences to present a united opposition to Trump's presence in Scotland. Many more were expected to attend the national demonstration in Edinburgh on Saturday, which begins with a march from the Holyrood parliament past the US embassy, and culminates in a family festival in the Meadows park, south of the city centre.
The Trump baby balloon was transported up from London overnight to greet protesters at the Meadows. Organisers had hoped to be able to fly the 6-metre balloon, which depicts Trump as an angry baby, outside the Turnberry resort but Police Scotland refused permission for security reasons.
Turnberry, which Trump described as a "magical place" earlier this week, has undergone a £200m transformation over the past four years.
It is made up of three links golf courses, a golf academy, and an elegant hilltop hotel, built in 1906, which looks out across the sea to the rock island of Ailsa Craig. Inside, it is lavishly decorated with glittering chandeliers, leather sofas and a discrete portrait by the reception desk of Trump in a relaxed pose taking a golf swing.

Source link